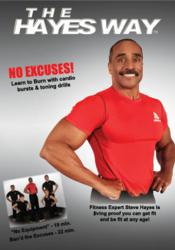 "If you have the WILL, I will show you the WAY"
Washington, DC (PRWEB) May 25, 2012
The Hayes Way™ is the perfect "way" to tone and strengthen the body, improve cardio conditioning, burn body fat and maintain healthy lifestyle habits. Steve and The Hayes Way team want to share their passion for maintaining a healthy lifestyle and being physically fit.
The "No Excuses" 18 minute and 22 minute workouts are perfect for at home, the office or while traveling; use a chair, kitchen counter or a desk. See the workouts at TheHayesWay.com. Steve is living proof you can get fit or stay fit at any age. In the "No Excuses" workouts, Steve and the workout crew show how to "beat the fat" off, strengthen the body and improve cardio conditioning – which seemingly reverses the aging process. Available in hard-copy DVD and digital download at The Hayes Way store on-line store.
Meet Steve on Memorial Day, May 28th from 1:00 - 4:00 pm, at Leisure Fitness in Tysons Corner VA. Leisure Fitness is the east coast specialty fitness retailer committed to providing the tools that will help consumers get fit and stay fit.
About Steve: Steve has over 35 years in the fitness industry and shares his philosophy that overall health can be improved, not matter age, fitness level or physical limitations. Steve's debut workout DVD, "Body Defining, Age Defying" was featured as one of Gail King's favorite things in Oprah Magazine; December 2010. Steve currently shares fitness tips and exercises with viewers in a weekly segment with Barbara Harrison on NBC4 in Washington DC.
After a bout with boyhood asthma, Hayes developed "the WAY" to strengthen the body through exercises that improved his overall health. When you're fit, and your physiological systems and metabolism are in order, everything else in life seems to follow," says Hayes. "A healthy BODY enhances a healthy MIND." Read more about Steve and The Hayes Way at http://www.thehayesway.com.
More about Leisure Fitness, is the east coast specialty fitness retailer, sells exercise equipment including treadmills, ellipticals, stationary bikes, home gyms, rowing machines, and a full range of accessories for strength training, yoga, pilates and more. Great prices, get free delivery and installation on equipment through May 31st. See website for details.