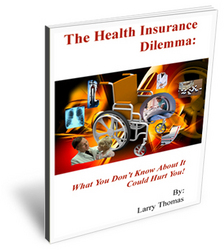 "Even in today's highly energized world of government insurance reform, people don't know what their policy covers and more important – what it doesn't cover
New York, NY (PRWEB) February 8, 2010
"The most common questions asked when people shop for insurance – What is the deductible? And what is the premium? Even in today's highly energized world of government insurance reform, people don't know what their policy covers and more important – what it doesn't cover," said Larry Thomas, author of the E-book The Health Insurance Dilemma: What You Don't Know About It Can Hurt You!
All health plans are not health insurance. The three most typical plans are the HMO (Health Maintenance Organization), PPO (Preferred Provider Organization) and Indemnity or Catastrophic Care plans. Coverage requirements for younger children vary from those needed by a person approaching retirement. Plans differ in how they approach health care, what is covered, what is not covered and how you receive that coverage. Deductibles, Co-Pays, limitations and exclusions vary from plan to plan as well as from provider to provider.
The news is full of health care reform stories. Stories about public options, mandatory coverage, who wants more and who feels the government is giving too much already.
"Our government may actually pull this off – some day! In the mean time, you and I still have to secure our own health insurance coverage" said Mr. Thomas. "People need to be informed and need to ask questions when considering health care coverage. Here are just a few to consider."
1. When considering an HMO (Health Maintenance Organization) find out if the plan is limited by geography? For instance, how does the plan cover a family member if he or she is injured outside of the coverage area? Will the plan limit coverage to emergency care and require the patient to return home for further treatment?
2. A PPO (Preferred Provider Organization) has both in-network and out-of-network providers. Coverage options may vary dramatically depending on the status of the provider. Check the PPO provider lists to see what doctors and hospitals are included in the PPO network? Also, determine how the plan covers providers who are not in the plan's network?
3. If prescription coverage is included in the plan, does that coverage have an annual ceiling? If it does, how does the plan cover prescription costs that exceed that ceiling? Does the plan even cover those costs or do they become the full responsibility of the insured?
4. How are children covered while at college or when visiting the grandparents in another state?
5. If coverage is included as part of a trade organization or trade group membership, what happens if a member moves, change careers or leaves the group? Is the plan portable or will the coverage end? What happens if the insured or a member of his family developed a health condition which might render that person un-insurable when shopping for a new plan?
6. What is the health of the Health Insurance Company? In today's economic uncertain times, insurance companies are just as vulnerable as Wall Street. Will the insurer be there when coverage is needed?
The Health Insurance Dilemma: What You Don't Know About It Can Hurt You! guides the reader through the maze of terms and loopholes that most people don't even know exist.
Mr. Thomas also wrote two reports Dental Plans: What You Should Know and The Health Insurance Workbook
The Health Insurance Workbook is a compilation of questions and discussion topics which should be considered when purchasing health care coverage.
Dental plans differ from health care plans. Most people buy health insurance to protect themselves from the extremes in health care costs. People buy dental plans because they know the plan will be used. Dental Plans: What You Should Know walks the reader through the maze of questions that should be asked when considering a dental plan.
All three are available at http://www.thehealthinsurancedilemma.com for $17.00
# # #