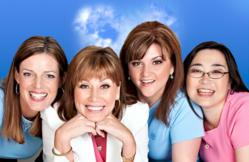 "The diverse mix of success-oriented women small business professionals linking their talents, insights, contacts and encouragement is a sight to behold," insists Dawn Billings with enthusiasm.
Mesa, Arizona (PRWEB) January 08, 2013
The Heart Link Women's Network is excited to announce its NEW Website with so many new features and information. The Heart Link Network has expanded to over 200 locations world-wide.
The Heart Link Networks Non-profit, Charitable Heart.org has sponsored women in Pakistan, Costa Rica and Indonesia and has given generously to the documentary Bite Size Movie that will be released this year to help bring awareness and hope to our nation's childhood obesity epidemic. Charitable Heart.org has supported moms, sisters, aunts and friends who have needed help and guidance.
The Heart Link Network has created several online advertising vehicles for women in business. Business-and-Women.com Find Success Mall offers 'flip-box' rotating box ads for professional women, where one will find a Consultant Directory on The Heart Link Networks official Heart Link Website that has over 10,000 visitors each month and lets not forget the TROVA Women Business Directory.
The Heart Link Network is launching a new business training center called The Heart Grows Business-for-Women.com and will be holding the first free training around the third week in January. Go to our website to learn more.
The Heart Link Network will be abandoning its NING community The Heart Alliance and transferring over to their Facebook Fan Page http://www.facebook.com/theheartlinknetwork where they share with over 6,500 professional women.
"We wish you a wonderful, happy and prosperous New Year."
Dawn Billings and The Heart Link Network