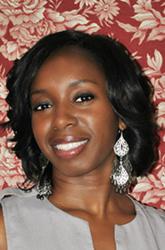 I believe that when you empower a woman, you empower a family, and a community. I am thrilled to bring this dynamic, uplifting organization to the women business professionals in the Columbus tri-city area.
- Moniek James-Eldridge
Columbus, GA (PRWEB) January 09, 2013
The Heart Link Women's Network®, winner of the Women Entrepreneur Business Award of Excellence in 2010 and 2011, Celebrates 1-Year Anniversary in Columbus, GA. Moniek is a the CEO of Distinctive Soirees: An Event Planning Company, which specializes in small business event planning, non-profit event management, wedding consulting, and other special events. She loves being able to create an environment in Columbus where women small business professionals can connect, help one another grow, expand their circle of influence, and market their business in a fun and effective way.
The Heart Link Network®, first and foremost, is dedicated to encouraging and empowering women small business professionals to create heartfelt, meaningful relationships with one another that will in turn strengthen their communities. The Heart Link Women's Network Columbus, GA Chapter recently announced its one-year anniversary. One year after launching in January 2012, The Heart Link Women's Network Columbus, GA Chapter is proudly serving women business professionals in the Columbus tri-city area and delivering exceptional value to the community.
In 2012, The Heart Link Women's Network Columbus, GA Chapter enjoyed an exciting year bringing a unique networking opportunity to a group of elite business professionals while developing new industry relationships and partnerships.
2012 Exclusive Attendee Testimonials
"The Heart Link Women's Network provides a fantastic alternative to all those stressful networking groups. I thoroughly enjoyed the first meeting I attended. The format allowed me to really learn something about the women who were there and the businesses they represented. In fact, I made referrals to two of the businesses that same week. I will definitely recommend The Heart Link Women's Networking to the small business owners and entrepreneurs that I coach and I will continue to attend as well." Melissa McCreery, Ph.D.http://www.enduringchange.com
"I attend The Heart Link Women's Network and just love it and the women are the best." - Teresa Schwark-Everist
The Heart Link Women's Network® is an award-winning networking organization for women that was developed specifically for women, based on the female endocrine system. The Heart Link Network meetings are intimate and welcoming for all women in the community and provides a warm and comfortable place for women to share their hearts, dreams, goals, and referrals. The Heart Link Network® was designed by a woman for women. At The Heart Link Network meetings, women showcase their business for 3 minutes versus other networking groups who only allow 30 seconds to one minute for business showcases. The Heart Link Women's Network® was created by visionary Dawn L Billings, author of over 20 books who has dedicated her life to finding ways to benefit the lives of women and children. Dawn was selected as one of 15 Women of Achievement by the YWCA in Cobb County, GA., and one of the nation's 80 emerging women leaders by Oprah magazine and The White House Project.
"The Heart Link Network has a unique networking model that helps women connect, bond, and grow personally and professionally. Women are stronger when they are connected. Women give one another great encouragement and support. I am so excited after every Heart Link meeting I attend because I watch with excitement as new relationships grow that I know will help women succeed." – Laura Wells, President of The Heart Link Network
The meeting fee is a nominal $25.00 and includes a light meal as well as a company-exclusive spot at the meeting. There is no up-front membership fee required. Women may go to http://www.31904.theheartlinknetwork.com to register to network with professional women in Columbus, GA. To see a full list of women networking locations, learn the perks and benefits of sponsoring a Heart Link Network chapter, or to submit an application to lead a chapter of The Heart Link Network®, visit http://www.theheartlinknetwork.com