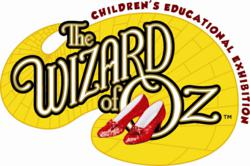 Dearborn, MI (PRWEB) September 22, 2011
We're off to see The Wizard of Oz, as The Henry Ford hosts The Wizard of Oz Children's Educational Exhibit at Henry Ford Museum, Saturday, October 1, 2011 to Monday, January 9, 2012. Using the beloved movie classic as a guide, this interactive exhibit takes children and families over the rainbow on a fun, learning adventure that doesn't require a tornado ride to get there!
Visitors will step into a child-size Land of Oz with stops at the Gale Farm, Munchkinland, The Crossroads, The Witch's Castle and The Emerald City before heading back, because, of course, "there's no place like home."
Follow the movie's storyline by first visiting Uncle Henry and Auntie Em's farm. Take a seat on a hay bale to watch a movie about life on a typical farm. Next, explore the power of nature by creating a mini-tornado in Dorothy's bedroom. Once the tornado settles, it's onto Munchkinland to let your imagination run wild with funhouse mirrors, soft-sculpture rainbow blocks, musical tubes, a voice synthesizer and other fun activities.
On the Yellow Brick Road, meet Dorothy's friends the Scarecrow, the Cowardly Lion and the Tin Man before heading to The Emerald City. Once there, create a "Horse of a Different Color," play at the kaleidoscope and prism stations. At the Wicked Witch's Castle, climb the mountain to capture the Wicked Witch's broom from Winged Monkeys. Finally, click your heels three times while reciting "there's no place like home," to depart the Land of Oz.
In OZ-tober, every Saturday, visitors can come to the museum dressed as their favorite Wizard of Oz characters, participate in story time, hands-on demonstrations, make-and-take crafts and take a photo with a different character each weekend. In November, Henry Ford Museum will offer Munchkin luncheons, a special ticketed event in which children can meet their favorite Oz characters. Visit http://www.thehenryford.org/oz for times, tickets and character appearances.
The Wizard of Oz Children's Educational Exhibit is free with membership or admission to Henry Ford Museum. For more information, please call (313) 982-6001 or visit http://www.thehenryford.org/oz.
The Wizard of Oz Children's Educational Exhibition was created by Miami Children's Museum and SPARKS, in partnership with Warner Bros. Consumer Products.
THE WIZARD OF OZ and all related characters and elements are trademarks of and © Turner Entertainment Co. (s11)
About The Henry Ford:
The Henry Ford, in Dearborn, Michigan, is the world's premier history destination and a National Historic Landmark that celebrates American history and innovation. Its mission is to provide unique educational experiences based on authentic objects, stories and lives from America's traditions of ingenuity, resourcefulness and innovation. Its purpose is to inspire people to learn from these traditions to help shape a better future. Five distinct attractions at The Henry Ford captivate more than 1.5 million visitors annually: Henry Ford Museum, Greenfield Village, The Ford Rouge Factory Tour, The Benson Ford Research Center and The Henry Ford IMAX Theatre. The Henry Ford is also home to Henry Ford Academy, a public charter high school which educates 485 students a year on the institution's campus and was founded in partnership with The Henry Ford, Ford Motor Company and Wayne County Public Schools. For more information please visit our website thehenryford.org.
About Miami Children's Museum:
Founded in 1983, Miami Children's Museum is dedicated to enriching the lives of all children by fostering a love of learning and enabling children to reach their highest potential. Visitors of all ages are encouraged to play together, learn, imagine and create. The 56,500-square-foot facility includes 14 galleries, classrooms, parent/teacher resource center and a 200-seat auditorium. The museum offers hundreds of bilingual, interactive exhibits; programs and classes, including special needs classes; Subway restaurant; KidSmart educational gift shop and learning materials related to arts, culture, community and communication. To learn more about the museum, please visit our website: http://www.miamichildrensmuseum.org.
Miami Children's Museum receives both private and public funding. MCM is sponsored in part by the City of Miami; the Miami-Dade County Department of Cultural Affairs, the Cultural Affairs Council, the Mayor and the Miami-Dade County Board of County Commissioners; and the State of Florida, Department of State, Division of Cultural Affairs and the Florida Arts Council.
About Warner Bros. Consumer Products:
Warner Bros. Consumer Products, a Warner Bros. Entertainment Company, is one of the leading licensing and retail merchandising organizations in the world.
Media Contacts:
The Henry Ford
Carrie Nolan
Media Relations Manager
313-982-6126
CarrieN(at)TheHenryFord(dot)org
Warner Bros. Consumer Products
Janice Aguilar-Herrero
Worldwide Public Relations
818-954-3821
Janice.Aguilar-Herrero(at)wbconsultant(dot)com
###