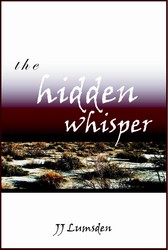 Birmingham, UK (PRWEB) July 8, 2009
The Hidden Whisper is a year old!
Yes, the mystery novel that offers a unique and fascinating insight into the world of the Paranormal, and the science of Parapsychology is now in its second year of publication.
Written by the Experimental Parapsychologist Dr. JJ Lumsden, it explores areas such as Extra Sensory Perception, Psychokinesis, Ghosts, Poltergeists and the fake psychic's skill of 'cold reading' - all within an enthralling whodunit narrative.
And now we are very pleased to announce: JJ Lumsden has signed up for the sequel.
Since its release, The Hidden Whisper has garnered praise across the board. Commendations have included:

This book works on many levels, an excellent introduction to the concepts current in the field of parapsychology... at best you may learn something new, and at worst you'll have read a witty and well-written paranormal detective story. (Parascience)
...a fascinating book... an excellent introduction to the different aspects of parapsychology. Lumsden writes with wit and insight. (Tucson Citizen)
Beyond an interesting and captivating story, the author also successfully adds an extra dimension that provides his readers with an excellent education in the basics of real life parapsychology. Skeptics and believers in the paranormal alike will enjoy JJ Lumsden's The Hidden Whisper. (Public Parapsychology)
An extremely well-written and suspenseful page-turner from real life parapsychologist JJ Lumsden. (Yoga Magazine)
To celebrate the book's anniversary, and what we hope will be an equally virtuoso follow-up - Bennion Kearny is offering a number of signed commemorative copies of the book. For more information, please visit: The Hidden Whisper or the sister site Paranormal.eu.com
###