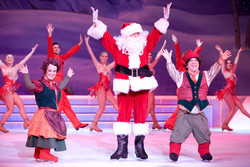 Stars on Ice - Italian Tour.
Atlanta, GA (PRWEB) September 2, 2010
This holiday season, the Cobb Energy Performing Arts Centre in Atlanta, Georgia will feature The Holiday Ice Spectacular. Metro Atlanta families will experience all of their holiday favorites, with a very cool difference: ice. The stage will be transformed into a glittering frozen pond - the perfect setting for the world-class skaters, dancers, and entertainers who will perform to a festive mix of classic holiday music. Audiences will discover a fast-paced, humorous blend of holiday entertainment, presented in a sparkling winter wonderland.
The show will be produced and directed by Cobb County native Jeb K. Rand, president and executive producer of Rand Enterprises & Productions. Mr. Rand's entertainment career spans over 25 years - first as a nationally-ranked professional figure skater, and now as the creative force behind productions around the world. Mr. Rand's shows feature top-tier talent from the worlds of both skating and entertainment - including vocalist Andrea Bocelli and Olympic medalists Evgeny Plushenko, Irina Slutskaya, and Sasha Cohen.
"I am so thrilled to be back home in Atlanta, bringing a unique family experience to this beautiful venue," said Mr. Rand. "This show is truly different - it has something to fulfill everyone's holiday entertainment wishes. It's a combination of music, skating, dance, and comedy - all presented in the context of a warm, humorous story that the whole family will enjoy. And the fact that it's performed on ice gives it a special, thrilling edge."
In addition to bringing the warmth of the holiday season to Atlanta audiences, Rand Family Entertainment will also give back to the community. Mr. Rand continued, "We are working with several organizations to give the gift of entertainment to local children by providing free tickets for each performance. I can't wait to see the smiles on those kids' faces."
The Holiday Ice Spectacular will be at the Cobb Energy Performing Arts Centre December 16-24, with 11 performances, including a Christmas Eve matinee. Tickets are available from Ticketmaster,with prices ranging from $18 to $69. Special VIP packages, family packs, and group ticket packages (at various prices and discount levels) are available, as well as corporate sponsorships.
About Rand Family Entertainment:
Rand Family Entertainment is a division of Rand Enterprises & Productions. Based in Las Vegas, Rand Enterprises & Productions is a full-scale entertainment production company specializing in original ice shows and events that combine skating and theatre. Since 1996, President and Executive Producer Jeb K. Rand has created, directed and produced critically acclaimed shows around the world.
About Jeb Rand:
Jeb K. Rand, President and Executive Producer of Rand Enterprises & Productions Inc., has been involved in figure skating for over 25 years, as a producer and director as well as a former professional performer and U.S. national competitor. A former nationally-ranked U.S. pairs figure skater, Jeb's professional skating career spanned over a decade and included principal roles with "Ice Capades," "Disney on Ice," and "Stars on Ice - Italian Tour." He and his wife and partner, Jen, were also featured in Radio City Music Hall's "Christmas Spectacular" from 1998 through 2005. Jeb is now a producer and director of television specials, corporate events, theme park and dinner theatre shows, as well as full-scale theatrical productions.
###