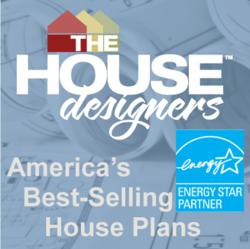 "Our green house plan competition has produced innovative, trend-setting house plans and national recognition for being a leader in new green home design," Crosby said.
Portland, Oregon (PRWEB) July 19, 2012
The House Designers just completed its 3rd annual ENERGY STAR®/Green Home Plan Competition where 30 of the most celebrated residential designers and architects in the country submitted their most cutting-edge, energy-efficient home designs.
"We initiated the ENERGY STAR®/Green Home Plan Competition to encourage our designers and architects to create new, energy-efficient, sustainable designs with the same design detail and amenities that homeowners expect from our popular selling house plans," said Tammy Crosby, Chief Operating Officer of The House Designers, the internet's leading provider of residential house plans. "Since our partnership with ENERGY STAR®, our yearly competition has produced innovative, trend-setting house plans, new publishing partnerships with Professional Builder and Green Builder Magazine and national recognition for being a leader in new green home design."
With thousands of websites claiming to offer green house plans, finding a true energy-efficient, sustainable house plan can be difficult and confusing. The goal of The House Designers is to simplify the process by providing consumers and builders with the only collection of EPA®, ENERGY STAR® approved plans and a wide selection of qualified sustainable homebuilding products.
All ENERGY STAR® house plans are reviewed by a RESNET Certified Energy Rater to ensure they meet the new requirements and features set by the EPA's® ENERGY STAR® Version 3 Program to qualify as "Designed to Earn the ENERGY STAR®". Energy-efficient features and construction details typically found in ENERGY STAR® qualified homes include tight construction and duct systems, properly installed insulation, high performance windows, efficient heating and cooling equipment, and ENERGY STAR® qualified lighting and appliances.
One of the key differences between Version 2.0 and Version 3.0 is that each ENERGY STAR® certified new home must exceed the 2009 International Energy Conservation Code (IECC) making it 15% more energy efficient, as well as implementing additional measures and products that improve the home's total energy efficiency up to 30% more than a standard new home.
"All of our plans meet strict criteria for quality, design and sustainability to allow consumers and builders the opportunity to begin implementing green elements at the design phase and not during or after construction which makes it much more expensive and sometimes impossible," Crosby said. "We're looking for manufacturers that have the same commitment to protect and preserve the environment to include their product specifications on our plans and to assist our consumer and builder house plan purchasers select energy-efficient, sustainable products for their new homes."
Manufactures can join eco-conscious companies like Therma-Tru®, Fypon® and Lumber Liquidators® who share The House Designers' commitment to sustainability.
Companies interested in partnering with The House Designers and showcasing their sustainable, energy-efficient products online and on construction blueprints can email Tammy Crosby at tcrosby(at)thehousedesigners(dot)com or call (203) 856-9334.
ABOUT THE HOUSE DESIGNERS ENERGY STAR® HOUSE PLANS: The House Designers are the leading residential architects and designers in the U.S. comprising the majority of pre-drawn plans in America. The House Designers has the best-selling, most popular house plans in America all under one roof owned and operated directly by the designers. They have clients who have built their homes in every state in the U.S. and in 56 countries around the globe.
ABOUT ENERGY STAR®: ENERGY STAR® was started by EPA® in 1992 as a market-based partnership to reduce greenhouse gas emissions through energy efficiency. Today, the ENERGY STAR® label can be found on more than 60 different kinds of products as well as new homes and commercial and industrial buildings that meet strict energy efficiency specifications set by EPA®. In 2011 alone, Americans with the help of ENERGY STAR®, saved more than $23 billion on their utility bills, while reducing greenhouse gas emissions equivalent to the annual emissions from 41 million vehicles.