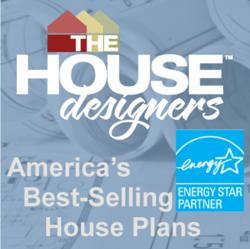 "We understand how important customer testimonials are to our business, because they are a third party endorsement and have actually built their home from one of our over 6,000 stock house plans," said Tammy Crosby, COO of The House Designers.
Portland, Oregon (PRWEB) July 11, 2012
The House Designers recently redesigned its free weekly e-newsletter Home Ideas that offers innovative home design ideas and cutting-edge new home product suggestions. The new Home Ideas spotlights house plans from its best-selling architectural styles and specialty collections as well as showcasing some of the newest, most innovative home products from leading manufacturers like Therma-Tru, Fypon, Lumber Liquidators and Raynor.
To celebrate the new issue, The House Designers launched its monthly Customers' Stories series featuring an interview with photographs of a young military family building their dream home. Wayne and Katie had lived at various locations throughout the U.S. while Wayne was deployed overseas serving his country for the last eight years until he was promoted to officer and finally able to choose a permanent residence.
"What it boiled down to was we really wanted to settle down and the option to build was more affordable than buying," said Katie, who decided to move to Sackets Harbor, New York, because it most resembled their hometown in Wisconsin. "We needed to stay affordable and knew exactly what we could pay per square footage. We were so happy when we found the Wilson Creek House Plan at TheHouseDesigners.com because it was small, but perfectly cozy for us."
"We also really appreciated the military discount that was given to us, it was very generous of The House Designers," said Katie, who received 10% off their house plan purchase. "We were very pleased with all the great customer service we received and will be sure to use The House Designers' services again in the future and refer our friends to the site." Click here to read the full story.
Every month will feature an issue where consumers will share their home building experience and their favorite home building products with The House Designers readers and prospective homebuilders.
"We take our customer feedback and testimonials serious," says Tammy Crosby, Chief Operating Officer of The House Designers. "We realize great customer testimonials are paramount to building a solid reputation and consumer purchasing confidence.
Reading about one of our consumers or home builders' personal experience of buying one of our stock house plans and seeing photographs of the built home is invaluable to others considering that same home plan."
Consumers searching for a general contractor to build a new home can visit The House Designers' Preferred Builder Program. A search by state option is available in the builder directory which features photographs of completed home construction projects, customer testimonials and a detailed business profile to easily place bids and obtain builders estimates.
The House Designers makes it easy for consumers and builders to share their opinions and beautiful photographs and floor plans of their new homes through these social networks: Twitter, Facebook, Pinterest, Houzz, WordPress and Google+.
About The House Designers: The House Designers is a leading, online residential house plan provider representing top U.S. architects and designers who comprise the majority of pre-drawn plans in America. The House Designers has the best-selling, most popular house plans in America all under one roof owned and operated directly by the architects and designers. The House Designers has clients who have built their homes in every state in the U.S. and in 56 countries around the globe.