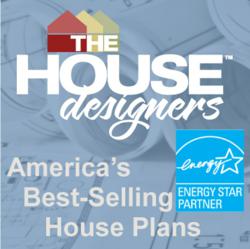 We're here at the biggest builders show in the world and there's amazing, new products every builder and consumer building a new home or remodeling should consider.
Las Vegas, Nevada (PRWEB) January 22, 2013
The International Builders Show (IBS) is the world's largest home building show in the industry and it's set to showcase thousands of new, innovative and sustainable home building products at the Las Vegas Convention Center. According to the National Association of Home Builders (NAHB), more than 50,000 homeowners, designers, remodelers and builders are expected to attend this week.
"We're here at the biggest builders show in the world and there's amazing, new products every builder and consumer building a new home or remodeling should consider," said Tammy Crosby, Editor-in-Chief of The House Designers, who sell the best-selling, most popular online construction-ready house plans in the U.S. "With new home construction on the rise it is the perfect time to learn about new, innovative home building products to incorporate into our new home designs."
Whether consumers or builders are looking to build an energy-efficient home, decrease the time it takes to construct a new home or simply interested in finding the coolest home building products, they won't be disappointed with this year's exhibits.
"The emphasis on green home building remains strong for 2013 as consumers and builders look for products that are extremely high tech, energy-efficient and sustainable," Crosby said.
"This year doesn't disappoint, with leading home building manufacturers like Therma-Tru®, Ply Gem® and Delta® offering the very best in smart, stylish and energy-efficient products."
Attendees will want to leave enough time to tour The New American Home (TNAH) featuring 6,721 square feet of innovative contemporary living spaces. Designed and built by Blue Heron Inc., the showcase home offers builders, architects, designers and consumers the chance to see the newest green products, construction technologies and design trends. The home is approximately 13 miles from the Las Vegas Convention Center. A free shuttle (Booth #20) will run between the conference center and the house during show hours.
For the 14th year, Professional Builder magazine is sponsoring the Show Village exhibit at the International Builders' Show. Consumers and builders can tour three energy-efficient model homes featuring more than 40 sustainable home building products. This year Professional Builder partnered with modular home manufacturers Palm Harbor Homes and IronTown Homes, along with Greenfab® a developer of sustainable modular homes.
Attendees will be able to mingle with world-class designers from ABC's hit show; Extreme Makeover Home Edition. One of the show's last builds in Bastrop County, Texas featured an innovative new green home designed by a leading architect from The House Designers.
Things get colorful with Sherwin-Williams® new 2013 Colormix™ forecast which features four distinct new palettes including electric and bold hues in High Voltage, theatrical shadows in Midnight Mystery, the fun and feminine Vintage Moxie and the rustic beauty of Honed Vitality.
Ply Gem®, a leader in low-maintenance and energy-efficient exterior home products like siding, stone veneer, trim and molding and windows and doors is showcasing a new line of cellular PVD trim and molding. Look for a new window line designed specifically for new construction and an innovative modular, stacked stone veneer system that is perfect for stand-alone pillars.
New features to the Ply Gem® interactive Exterior Design Studio will be on display as well. This visualizer tool allows homeowners and builders to select a home style and then try on various products, colors and textures.
Therma-Tru® and Fypon® have teamed up to display fabulous fiberglass front entry door systems with decorative door surrounds. New for Fypon® are realistic stone-looking door surrounds from their Stone and Timber collection.
The House Designers editorial team will be reporting live from the IBS tradeshow floor to highlight their favorite residential products in popular categories like lighting, bath, kitchen, windows and doors, as well as other show highlights. Visit their Facebook page for daily updates.
Consumers and builders looking to building a new home can browse through thousands of new and best-selling house plans by viewing the Architectural Styles and Specialty Collections section of thehousedesigners.com.
ABOUT THE HOUSE DESIGNERS HOUSE PLANS: The House Designers are the leading residential architects and designers in the U.S., owned and operated directly by the designers who represent the majority of pre-drawn plans in America. The House Designers offers the best-selling, most popular construction-ready house plans in the country. Their clients have built homes in every state in the U.S. and in 56 countries around the globe. For more information, visit thehousedesigners.com or call 866-214-2242.