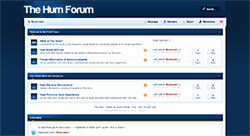 We hope to bring people together and work to finding a solution for those who have trouble dealing with the sound
Prince William County, Virginia (PRWEB) November 11, 2012
The Hum is described as a low-frequency sound that is similar to a diesel engine idling in the distance. It's cause is unknown, yet it has been heard by thousands of people around the world for forty years. Now a group of Virginia-based researchers have created an online forum to support those who are affected by the sound, and foster discussions that may lead to finding its source.
The Wikipedia page for The Hum describes the sound as a "series of phenomena involving a persistent and invasive low-frequency humming noise not audible to all people". One of the earliest known encounters with The Hum was in England during the 1970's, when nearly a thousand people reported hearing a low-pitched humming sound for which no source could be located (Wikipedia).
Researchers of this issue have created a discussion forum in hopes of bringing together users from around the world who suffer from the noise. "We'd like to offer a well-managed online home for people who are negatively affected by this sound," said Brad Caricofe, Director of the Hum Research Group.
"Many people have reported headaches, dizziness, nausea, nose bleeds, and more. Some have reported becoming violently ill after hearing The Hum for long periods of time. Others have difficulty getting rest and suffer from increased stress as a result. We hope to bring people together to work on finding a solution for those who have trouble dealing with the sound," said Caricofe.
The group's forum website, HumForum.org, was designed using a simple format to facilitate discussion easily, and foster better communications among members. Future plans for the forum include the addition of regional subforums, making it easier to track reports of The Hum from around the world.
About The Hum Forum
The Hum Forum is a research and communications tool for people affected by the global auditory phenomenom known as The Hum. The website is managed by The Hum Research Group, a Virginia-based organization that seeks to help others mitigate the effects of The Hum, foster political and public awareness, and ultimately pinpoint sources of the sound.