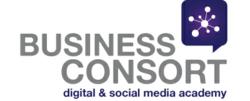 10% is the predicted percentage of GDP the internet will be responsible for in 2015
(PRWEB UK) 22 October 2012
In an ever increasing digital era Business Consort has discovered some facts that give food for thought when looking at where businesses advertising spend should be allocated.
Business Consort - The Digital and Social Media Marketing Academy reviewed 'The Connected Kingdom Report' produced by The Boston Consulting Group to see exactly how important the internet is in today's business world.
According to The Connected Kingdom report £100 billion is the value of GDP brought in by the internet in the UK.
Also 7.2% of GDP has been brought in by the internet and 10% is the predicted percentage of GDP the internet will be responsible for in 2015.
These figures show that the internet is a huge part of UK commerce and with more and more businesses deciding to take their products and services online and build e-commerce strategies then surely a digital marketing strategy has to go hand in in hand.
Although there are examples in the report that show great success from social and digital strategies it is still a very competitive market.
Businesses can use free resources such as http://www.alexa.com to see exactly where they rank against the other 645 million live websites in the world.
A business cannot expect to build a website and start generating instant traffic.
A recent survey carried out by Business Consort to their clients showed that the biggest obstacles in recognising revenue from online activities was that of the complete saturation of multi-channel networks.
With more and more digital channels emerging it is a daunting task to select which one/s will have the most impact to our businesses and where we should allocate resources.
Business Consort highlighted a need for a fast track social media and digital marketing course to help businesses.
With over 75% of all transactions originating from a search engine a business needs visibility on the web and Dawn McGruer, Director of Business Consort and social / digital media specialist has brought together all a business needs to know to succeed online through her vast array of courses.
Business Consort has trained and provided consultancy to thousands of global brands and businesses over the years and has realised size doesn't matter as the obstacles a business face are always the same.
The internet has meant there is no monopoly in terms of a business's online presence and visibility.
A small business in employee size or revenue could have a great impact online through implementing exemplary social and digital strategies.
Knowledge is power and once digital and social media marketing strategies are in place a business can succeed.
There are only three objectives that any business has;
Increase Customer Base
Increase Average Order Value
Increase Purchase Frequency
If businesses apply these objectives back to their social and digital marketing plans, actions and strategies then surely success can be achieved.
Business Consort has launched a variety of courses to help address this need and as a Chartered Institute of Marketing accredited study centre business can not only achieve a certificate or higher but be comfortable in the knowledge that they are learning from a business who is practicing these techniques daily.
Visit Business Consort's website for more information and free downloads plus follow their blog for more helpful social and digital articles.