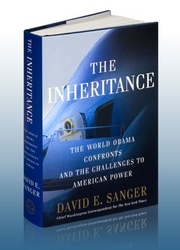 Because of the pressing need for well-argued changes of course in our missteps dealing with Iraq, Afghanistan, the Middle East, China, North Korea, Pakistan, and elsewhere, we've tapped this essential book as our PBC Pick for February
New York, NY (PRWEB) February 6, 2009
Readers of the New York Times know Sanger as one of the most trusted correspondents in Washington, one to whom presidents, secretaries of state, and foreign leaders talk with unusual candor. Now, with a historian's sweep and an insider's eye for telling detail, Sanger delivers an urgent intelligence briefing on the world America faces.
In a riveting narrative, The Inheritance describes the huge costs of distraction and lost opportunities at home and abroad as Iraq soaked up manpower, money, and intelligence capabilities. The 2008 market collapse further undermined American leadership, leaving the new president with a set of challenges unparalleled since Franklin D. Roosevelt entered the Oval Office.
Sanger takes readers inside the White House Situation Room to reveal how Washington penetrated Tehran's nuclear secrets and the covert actions Bush took to delay the Iranian bomb. Covering everything from secret Pakistan intelligence missions to the nuclear calculus of North Korean leader Kim Jong-Il, Sanger shows how US failures permitted China to become one of the real winners of the Iraq War.
"Because of the pressing need for well-argued changes of course in our missteps dealing with Iraq, Afghanistan, the Middle East, China, North Korea, Pakistan, and elsewhere, we've tapped this essential book as our PBC Pick for February," says David Rosen, Editor-in Chief for Progressive Book Club.
At once a cogent history of our foreign policy misadventures and a lucid explanation of the opportunities they created, The Inheritance is vital reading for anyone trying to understand the extraordinary challenges that lie ahead.
The Inheritance is the ninth PBC Pick for Progressive Book Club, which launched its Web site in June of 2008, following The Big Squeeze: Tough Times For the American Worker by Steven Greenhouse (June), Moral Clarity: A Guide for Grown-up Idealists by Susan Neiman (July), The Power of Progress: How America's Progressives Can (Once Again) Save Our Economy, Our Climate, And Our Country by John Podesta (August), The Way of the World: A Story of Truth and Hope in an Age of Extremism by Ron Suskind (September), The Green Collar Economy: How One Solution Can Fix Our Two Biggest Problems by Van Jones (October), Promised Land by Jay Parini (November), State by State, edited by Matt Weiland and Sean Wilsey (December) and The Defining Moment by Jonathan Alter (January).
The PBC Pick is chosen monthly by Progressive Book Club's Editorial Board, whose distinguished members include Michael Chabon, Dave Eggers, Barbara Kingsolver, Hendrik Hertzberg, Gail Sheehy, Katrina vanden Heuvel, John Podesta and Andy Stern, among more than two dozen prominent authors, journalists, academics and politicos.
About Progressive Book Club
Progressive Book Club finds - and promotes - the books that can change our nation by harnessing the power of the Internet to create an important new platform for progressive ideas. Part bookseller, part online magazine, Progressive Book Club is a vibrant forum that is transforming the traditional book club model.
# # #