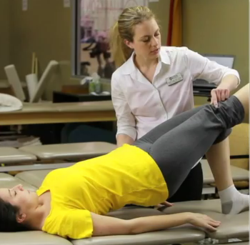 "Our staff has the rewarding opportunity to make a positive difference in the quality of patients' lives."
Middleburg, VA (PRWEB) March 29, 2012
The Jackson Clinics, a locally owned physical therapy practice, will work with NOVA Specialty Access to integrate free health care services, for low-income, uninsured people.
The Jackson Clinics has volunteered their physical therapists' time and services to treat qualified patients at their 12 locations throughout Northern Virginia. Therapists at The Jackson Clinics are working to relieve their patients' pain, make them stronger, and help them regain function so that they can resume normal day to day activities. "Our staff has the rewarding opportunity to make a positive difference in the quality of patients' lives," says The Jackson Clinics co-owner, Anna Jackson. "We benefit in knowing that our skills are helping those who could not otherwise afford it".
Patients participating in the program will benefit from The Jackson Clinics therapists advanced clinical skills in spinal disorders, sacroiliac joint dysfunction, rotator cuff injuries, knee injuries and foot and ankle pain.
"Life is not a spectator sport. Pain or limited movement can keep someone from living life to its fullest. Physical therapy can help and it should be accessible to everyone," says Jackson. "Our goal is to treat at least 300 qualified patients this year throughout our clinics in Northern Virginia."
A project of the Northern Virginia Health Services Coalition, NOVA Specialty Access has created a regional specialty care network that will provide the coordination for qualified patients to gain access to local participating clinics and physicians. Patients qualify for treatment at a clinic or with a provider by lacking health insurance and providing proof of income not exceeding 200% of the federal poverty level. According to the Fairfax County Government website, the federal poverty level in 2010 was $22,350 for a family of four. The site also reports an estimated 10.6% of Fairfax County residents lacked health insurance coverage, and Fairfax County residents living in households with moderate or low income are more likely than their national counterparts to lack health insurance coverage.
"With no income and no insurance, I had nowhere to go," says recently unemployed Michael Lannes. "Because of severe pain in both of my legs and hips, I wasn't able to do my job and I was forced to quit." Lannes qualified for the program through the Jeanie Schmidt Free Clinic in Herndon, who in turn referred him to The Jackson Clinics.
Doctor of Physical Therapy, Kristin Huppi, works with Lannes at The Jackson Clinics Worldgate location. Kristin specializes in ankle, foot, knee and hip disorders. "The Jackson Clinics have been really great. I've been working with Kristin since January," says Lannes. "I'm now walking a mile every day and do the exercises that she has given me to do at home. I'm still working on gaining mobility in my left leg, but my right leg is pain free," Lannes continues.
Each member clinic or health care provider in the coalition is unique-- from the services they provide, to the geographic area they cover, to the way in which they address the need for specialty care. "Increased access to specialty care continues to be a challenge for safety-net health care providers in Northern Virginia as the need in our community steadily grows," says Meagan Ulrich, Project Manager for NOVA Specialty Access. "It's our goal to provide 1,500 appointments for patients in need in our community in the coming year."
With the help of practices like The Jackson Clinics, NOVA Specialty Access is well on their way to achieving their goals. "The Jackson Clinics first objective has always been to be a regional practice that serves the needs of the community," says Jackson. "This is a wonderful opportunity to do just that."
For more information about The Jackson Clinics visit http://www.thejacksonclinics.com
For more information about Nova Specialty Access visit http://www.novaspecialtyaccess.org/
For more information about The Northern Virginia Health Services Coalition visit http://www.novaclinics.org/home
About The Jackson Clinics
Located throughout Northern Virginia, The Jackson Clinics is a locally owned physical therapy practice founded in 2005 by Richard and Anna Jackson. Its goal is to be a model practice in all respects; clinical care, education, research, and service. The staff specializes in orthopedics and sports rehabilitation with a focus on quality and consistency of care. The Jackson Clinics has been recognized for its outstanding patient care and is the National Practice Award Winner for 2010.
About NOVAHSC
NOVAHSC, formed in 2005, is a group of safety-net clinics working together to provide health care services for low income uninsured people of Northern Virginia. The Coalition represents clinics and health care providers in Alexandria City, Fairfax County, Arlington County, Prince William County, Loudoun County, Fairfax City, Falls Church City, Manassas City, and Manassas Park.
Contact:
Jonathan Rand
Community Relations Director
The Jackson Clinics
540-687-8181