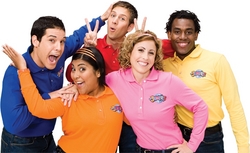 Beginning in January, The Jumpitz will proudly become part of The American Forces Network Family Channel line-up which broadcasts to over 1 million families overseas.
San Diego, CA (PRWEB) December 29, 2009
"Operation Jump for Joy," a free holiday concert event hosted by "hot" emerging children's entertainment group, The Jumpitz, was a huge success. The event was held on Sunday, December 27th aboard the USS Midway to honor military families and to benefit Snowball Express, the charity for children of fallen military heroes since Sept. 11, 2001. "Operation Jump for Joy," led by mistress of ceremonies Kathleen Bade of Fox 5, drew in special guests, including comments of support from our nation's First Lady Michelle Obama, U.S. Congresswoman Susan Davis, and California First Lady Maria Shriver. Actresses Emily Grace Reeves ("Hannah Montana: The Movie") and Allisyn Ashley Arm ("Zora" from Disney's "Sonny With A Chance") attended. Snowball Express Chairman of the Board, Micki Sander, also attended, along with some special Snowflake kids.
Supported by corporate sponsors, including American Airlines, Motorola, Barona Band of Mission Indians, Northrop Grumman, VMware, EDCO, BURRTEC, Veolia Transportation, Cubic Corporation, SDG&E, Little Giraffe, Toyota Carlsbad and LEGOLAND, California, in partnership with FOX 5 San Diego, 102.1 KPRI Radio, and The Pentagon Channel, a division of The American Forces Network, "Operation Jump for Joy" provided an evening of family fun featuring live performances and activities from entertainment entities around the globe. The Jumpitz CEO Phyllis Schwartz said, "Thanks to the generous support of our sponsors, The Jumpitz and 'Operation Jump for Joy' were able to present a check to Snowball Express, donating $25,000 to their amazing organization."
Hundreds of military families enjoyed live performances on the Flight Deck from The Jumpitz, The Wayans Brothers Boo Crew; pop star Keana; rising boy band WOW, and six-time San Diego music award winner Eve Selis, who led the entire cast and audience in a rendition of "America the Beautiful."
First Lady Michelle Obama, through a special video, gave her heartfelt support of Snowball Express and the families of our Armed Forces.
A personal letter was read from First Lady Maria Shriver: "A big thank you to Jumpitz and all of the amazing performers it has brought together for this event, as well as to Snowball Express. You are giving our military youth an extraordinary and special gift that they will always remember."
U.S. Congresswoman Susan Davis from the 53rd District of California addressed the guests with a heartfelt gratitude for the service that these military families provide to our country. "I appreciate being a part of this very special event. I commend Jumpitz and Snowball Express for their important work in bringing joy and fun to children of our service members. Along with our service members, military families and children also make sacrifices everyday on behalf of our nation. Operation Jump for Joy is a wonderful way to show how grateful we are to them."
The Hangar deck included a live performance from Hullabaloo, JW Tumbles, the San Diego Chargers' cheerleaders, and LEGOLAND's favorite character, and gift bags filled with The Jumpitz CD, LEGOLAND'S SeaLife Aquarium tickets, Little Giraffe Blankets, a gift certificate from JW Tumbles, a Toy-OGO ball, and more.
"Operation Jump for Joy" will air on The Pentagon Channel (Friday, Jan. 1st, 1-4am PT; Saturday, Jan. 2nd, 4-7am PT; Saturday, Jan. 2nd, 1-4pm PT; Sunday, Jan. 3rd, 11am-2pm PT), which broadcasts military news and information for the 2.6 million members of the U.S. Armed Forces both stateside and overseas to over 175 countries. "This airing both launches and showcases the integrated strategy of The Jumpitz entertaining children of the military throughout 2010 and beyond," according to Laurie Reider-Jabbar, EVP of Business Development for The Jumpitz. "Beginning in January, The Jumpitz will proudly become part of The American Forces Network Family Channel line-up which broadcasts to over 1 million families overseas." In addition, The Jumpitz are planning an Armed Forces Entertainment sponsored European base tour in Spring of 2010 that will augment their continued domestic involvement with performing as part of Snowball Express.
Micki Sander, Chairperson of Snowball Express, recently featured as "ABC's Persons of the Week" on World News Tonight with Charlie Gibson (click here for video), said, "The goal of Snowball Express is to bring joy to the children of our fallen military heroes, and watching The Jumpitz wonderful performance, it's clear they're the perfect type of entertainers for young people. The Snowball Express families had a wonderful time with The Jumpitz. As Snowball Express plans its future events, bringing new memories to the wonderful children, The Jumpitz will clearly play a big role. We love their energy, excitement and passion."
"We were proud to help sponsor an event that brought joy to military families during the holidays. We thank The Jumpitz for hosting this event and look forward to working with them on other events," added Captain Steve Blankenship, Managing Director - Veterans Initiatives for American Airlines.
About The Jumpitz®
The Jumpitz® is an award winning, live action educational entertainment group dedicated to delivering fun, imaginative and interactive content for children who are between two and seven years of age. Through playful, engaging and trusted characters, The Jumpitz inspire children to actively learn about and discover the world around them. http://www.jumpitz.com
About Snowball Express
Creating a network of hope for the families of our fallen heroes, the Snowball Express' mission is to honor and provide hope and new memories to the children of military fallen heroes who have died while on active duty since 9/11. By attending Snowball Express, a child can see: "Service above Self" is honored by others and is a value they should subscribe to as they continue to mature as adults; they can honor their fallen hero in ways other than by being sad or at a somber place; and it's okay to laugh and have fun. Snowball Express gives kids a piece of their childhood back. http://www.snowballexpress.org.