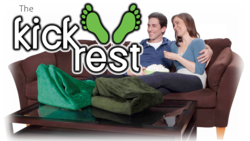 the ultimate diagnosis was that 'form over function' that plagues living and family rooms across America
Vermont (PRWEB) November 08, 2011
The Kickrest is a new product that fulfills a very important need – the need to have a comfortable place to rest one's feet. Millions of Americans rest their feet on the living room coffee table because it is the only choice available. Founder Caleb Gurall created a way to eliminate this uncomfortable feeling with The Kickrest.
The product is a contoured foot pillow that can be placed on top of you coffee table at home, on the sofa, or on the floor at work at keep your feet comfortable when you don't have a recliner or ottoman. On top of the footrest is a detachable polar fleece cover that keeps feet warm and comfortable during movie night, game day, or any other time when you are on the sofa and looking for warmth and comfort.
Unlinke a regular pillow, the kickrest contains an integrated "table grip" technology that protects furniture from scratches and keeps the device stable so that it remains where it was placed originally. The result is a stable, comfortable, warm place for the feet, all in one package.
The Kickrest was created as a need to be comfortable during a Sunday football game. A rough version was created to add a little comfort instead of placing feet directly on the coffee table, which was uncomfortable and awkward. Immediately, friends of the inventor were taken with the design and wanted one of their own.
"From the very start, we were encouraged by feedback from friends and family who tried the product. And with further research we realized that the majority of Americans have a use for the Kickrest on an everyday basis…the ultimate diagnosis was that 'form over function' that plagues living and family rooms across America," says Caleb Gurall, inventor and now entrepreneur.
The primary source of comfort for the footrest is a memory foam cushion that has been ergonomically designed to cradle the contours of a person's feet and legs. A person can sit this anywhere and find comfort without having to buy a piece of furniture. Some customers have commented that they actually use it in conjunction with their ottoman because it offers additional comfort.
There is a slim "hide-away" feature on the invention which is an important design feature for homes. The fleece cover will fold neatly on top of the footrest to be used at any later event. This allows the product to be stowed away when not in use – either in a drawer or under the furniture – until you are ready to use it for the next time you are on the couch and ready for the extra layer of comfort.
There are currently three colors available in the revolutionary foot rest that is available for purchase at http://www.kickrest.com. The colors available are 'putting green,' 'true blue' and 'olive me.' These can be purchased online with any major credit card and include a small shipping and handling fee.
The company, based in Vermont, encourages customers to "kick it" in comfort by purchasing a foot rest to put the coffee table to good use. To see who is currently kicking it, there is a Facebook page available at http://www.facebook.com/Kickrest. Those who choose to "like" the page can find out more details about the company and be informed when new colors or products become available.
# # #