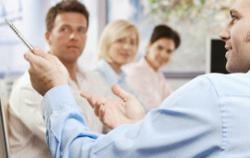 The task based communicative method will really help you to learn Spanish quickly with fun.
London, UK (PRWEB UK) 26 May 2012
Many city workers interested in learning a language can rejoice as The Language Class has now opened a new branch of its school in Aldgate East. The new branch will feature the popular Spanish Lessons in London which have been the students favourites since the opening of the first branch in 2006. For those interested in Italy the company will continue to offer Italian course at the new branch along with the addition of German, French and English.
To make things more interesting, the Language Class confirms that all lessons are now based on the communicative task based method. First of all, it is communicative because it focuses on oral and written practice with a lot of conversation and writing exercises. The lessons are also task based. In other words, students have to cooperate interactively together to solve communicative problems. For example, after having discovered the vocabulary necessary to order food, the students will need to perform a role play where one is the waiter and the other is the client. With The Language Class, students will always cover real life and meaningful situations that they will encounter while travelling.
Furthermore, The Language Class announces that all classes will focus on 4 abilities. Reading, writing, listening and speaking are the four skills to be developed if the student wants to succeed. It will be a big leap forward for those used to rota learning or the grammar and translation method as they simply lacked the interactions that students needed. During each session the student will be presented with well-structured and authentic audio and video materials. Listening tasks are very useful to develop comprehension and fully immerse in the new culture. The tutor will also use newspaper articles, or traditional printed advertising to develop reading and writing skills. The final task will be always a controlled oral practice where the students will interact together with the structures learned during the class.
The communicative method is a full immersion interactive approach that will help the student to be confident and prepared for interaction when travelling or facing speakers of other languages.
The Language Class also has now more variety of classes that were not available before. Lessons are scheduled in the evening, lunch time, and weekends in order to satisfy everyone's schedule. Therefore students will always find the classes that they want. The new branch of The Language Class is based in Aldgate East in London, just minutes from Liverpool Street, Bank or London Bridge, so for those who would like to escape the office for a lunch time German course now they can. Our native and qualified French private tutors can also help with GCSE or A Levels. Also for those who want to retain the language that they have learned at university The Language Class will be glad to offer the new refresher language courses.