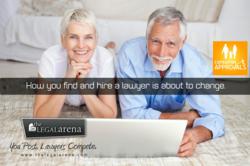 "A fantastic site designed to empower consumers in need of legal representation. Will definitely change the way consumers hire attorneys." - Todd Fronrath - Managing Partner, Lytal, Reiter, Smith, Ivey and Fronrath
West Palm Beach, FL (PRWEB) July 28, 2011
After spending three years in the development phase, The Legal Arena, LLC is eagerly gearing up for the release of their patent pending website, thelegalarena.com. This new online tool aims to offer consumers an easier and more effective way to retain a lawyer than the outdated methods currently available. Instead of spending hours hunting through hundreds of phone book pages or infinite online directory listings, thelegalarena.com will direct applicable listings straight to the user.
Clients using thelegalarena.com will be able to select the area of law they need representation in, the geographic location where they need these services, and then privately post their case (with the option to upload documents or pictures for review). The client also has the ability to browse the website catalog of legal professionals and select several potential lawyers for their case based on specific area of law and geographic location. The key to the site is that the consumer remains in 100% complete control.
"The site is believed to be revolutionizing because it is easy and simply more effective than the standard way of 'throwing darts' and selecting someone from a phone book or internet directory. Just look at your local phone directory. It is one-third thick with lawyer listings and internet directories are endless. Who do you call? It's time consumers have a better way and were going to give it to them," says Steve Prince, founder of The Legal Arena, LLC. "Our concept is kind of like a directory with a 'twist'. Usually in a directory the consumer calls the company within; with us, the company calls the consumer," adds Prince.
One of the most exciting and empowering features of the site is the "Consumer Approvals" element. While most lawyer-based websites feature a "peer-to-peer" rating of each entry, The Legal Arena, LLC is unique in that they believe it is far more important for consumers to be able to communicate amongst one other. Much like product reviews and rankings on sites like Amazon and eBay, attorneys will be ranked according to the number of "Consumer Approvals" they receive; the more they have, the higher they rank.
"A fantastic site designed to empower consumers in need of legal representation. Will definitely change the way consumers hire attorneys," remarks Managing Partner Todd Fronrath, of Lytal, Reiter, Smith, Ivey & Fronrath.
In fact, The Legal Arena, LLC is already reporting an overwhelmingly positive response from many lawyers nationwide. West Palm Beach, FL "Super Attorney" John F. Romano, of the Romano Law Group, states, "You guys are going to create a paradigm shift in the entire legal profession."
Lawyers can view member benefits at The Legal Arena's Facebook page and can apply early directly from the company's "Coming Soon" page.
Thelegalarena.com is a free service for anyone in need of legal representation.
For more information please visit: http://www.thelegalarena.com.
###