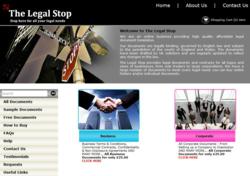 Stop Here For All Your Legal Needs
London, UK (PRWEB UK) 16 November 2011
The Legal Stop has recently introduced a new service and started to provide affordable Fixed Fee Legal Advice from UK barristers. Now with just one click you can obtain professional advice from a panel of qualified barristers for as little as £50.
The company also has a large number of online legal documents and contracts to meet every legal need. It provides Corporate, Business, Employment, HR and Health & Safety Documents and Policies including: Employment Contracts, Confidentiality and Non-disclosure Agreements, Shareholders' Agreements, Partnership Agreements and Legal Forms.
The Legal Stop provides a quick, affordable and convenient way of obtaining a wide range of professional legal and business documents which can be edited to meet any particular circumstances. The documents are specifically prepared to help run and manage all types and sizes of businesses, from sole traders to large corporations. All document templates are professionally drafted by a team of legally trained professionals. The templates are written in plain English, legally binding and regularly updated to comply with the most recent changes in the law. Clients have the option to purchase individual documents and/or entire folders. The buying process is quick and easy. A simple click on the document and/or folder to be purchased will open a new page asking to provide the name, surname, E-mail address and billing address of the buyer followed by the PayPal payment gateway. Once the payment has been processed the buyer immediately receives an email containing the requested document and the invoice. The company offers great value-for-money and if clients are not satisfied the templates come with a hundred percent money-back guarantee, no questions asked.
The Legal Stop is constantly expanding the portfolio of legal and business documents and now it offers several new templates including: contracts of employment, Human Resources documents and forms, confidentiality and non-disclosure agreements, shareholders' agreements, partnership agreements and health and safety documents.
For more information please visit: http://www.thelegalstop.co.uk
###