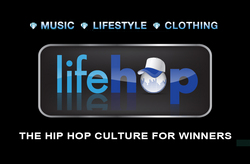 Hector Z.: "As someone who grew up on hip-hop, I love Life Hop's bangin' beats and intelligent flow. As a father of 3, I love the positive influence it will have on teens and young adults. Life Hop forever!"
Modesto, CA (PRWEB) February 23, 2011
LifeHop, a division of Eastman Entertainment, has officially kicked off its positive hip hop movement aiming to influence a whole new following of listeners. LifeHop has been earning accolades from parents, teachers, law enforcement, church and community leaders, and others; they agree that its use of hip hop beats and phraseology imparts necessary life skills and fosters positive behaviors in a fun and engaging way. Andre Eastman, creator of LifeHop, states, "LifeHop is bringing balance to hip hop. We all require balance in every aspect of our lives, and we know the repercussions of not having it. Now if we feed our minds negativity on a regular basis, it will influence our behavior and choices similarly." LifeHop music teaches and influences its listeners to make choices which foster personal accountability, respect, success, and unity.
The LifeHop concept takes three key elements found in any culture as its foundation for helping people. Every culture uses music, lifestyle, and clothing to set norms for dress, behavior, and social interaction, so does LifeHop. Eastman further clarifies the LifeHop strategy, "We utilize our style of hip hop music, our positive messages and life lessons, and our clothing as a way to create norms for positive behavior in our listeners. Commercial hip hop influences it's listeners in every aspect of their lives, from what to buy, to what to drink, to how to talk, dress, and act. For those who love the hip hop genre, the LifeHop culture offers a positive and life-affirming influence."
For more information on LifeHop, please go to youtube.com/mylifehop. Contact Andre Eastman at (209) 531-3901 or andre(at)mylifehop(dot)com.
###