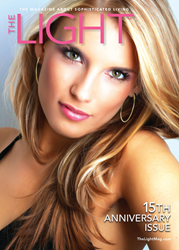 Fort Lauderdale, Fl (PRWEB) July 13, 2016
The Light Magazine is celebrating 15 years of publishing in South Florida in its September/October issue.
According to Founder and Editor Roberta Backus Turner, "We began this journey because there was no publication addressing local issues in our community, and then we were encouraged to expand into neighboring communities to the point where we are now distributed from east Fort Lauderdale to east Boca Raton. We are most thankful for the support and contributions we have received over the years from our writers, advertisers and readers. It is at times a stressful endeavor, but always a gratifying one."
The Light Magazine publishes six times a year and is distributed in Fort Lauderdale, Pompano Beach, Lighthouse Point, Deerfield Beach and Boca Raton. Most issues are 70% editorial and its readers say they like a publication with pertinent content they can read cover-to-cover. There is also a digital version of each issue containing the same editorial and advertising so consumers can take the publication with them wherever they go. In addition to distribution in banks, retail locations and medical and business offices, the magazine is mailed directly to homes in the communities covered.
"We look forward to growing further, in both size, reach and relevance to the communities served. New sections will be added in the future, including one that focuses on the many great Florida attractions available to those of us fortunate enough to live here", said Turner.