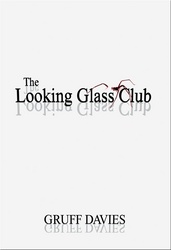 Seattle, WA (PRWEB) November 11, 2010
A new Sci-Fi thriller entitled "The Looking Glass Club" has just hit the North American market, and is currently available at Barnes & Noble and Amazon.com, where both hardcopy and electronic copies are offered. The book, independently published by Brit author, Gruff Davies, shot into Amazon UK's Best Sellers Charts this week, listing 28th in the Thrillers section. The book is based in both Manhattan and London, and is highly original, witty and terrifying in equal measure. This fast-paced thriller grips from page one and won't let go. Crammed with big ideas, and written with boundless imagination, this thought-provoking novel will delight and consume intelligent readers everywhere.
Additionally, the book offers readers more than 32 puzzles to solve and 2 competitions to go along with it. From now until Dec. 20th, the author is offering an iPad to one lucky and clever person who can solve all the puzzles in the first four chapters of the book. All the readers who have correctly solved the first four puzzles will be entered into a drawing being held on Dec. 21st. The lucky winner will receive an Apple iPad, courtesy of Gruff.
A further competition with a prize of up to £1 million is tied to "The Looking Glass Club" book sales and offered to whomever correctly solves all of the puzzles found in the book. Individuals or teams can play (teams will work quicker, but must share the prize money). A number of the puzzles in the book are actually cryptic signposts which, when solved, actually lead to virtual places outside the book where the real puzzles for those chapters are hidden behind yet another puzzle. Three layers to crack! Rules and entry forms, and more information about "The Looking Glass Club" book can be found on the book's website.
"The Looking Glass Club" Brief Overview
When a pregnant stranger, Skyler, is dumped on his doorstep with a sinister note, Steel finds himself in a race to restore her memory before they are both killed by an assassin with a frightening gift. What is Skyler's connection to his past, and how much longer can Steel protect the world against the secret that he's guarded for decades?"
About the Author
When he's not writing, Gruff is an inventor, entrepreneur and technology consultant. He has a PhD in Physics from Imperial College, London, the location of "The Looking Glass Club. " Gruff was nominated for Ernst & Young Entrepreneur of the Year 2003, was a TV finalist in the BBC Tomorrow's World Innovation Awards (Inventive Individual Category), and Bill Gates spoke about one of his inventions during his keynote speech at the Consumer Electronics Show in Las Vegas. Gruff lives in London.
# # #