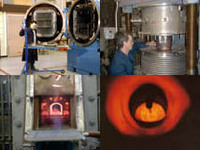 The March Group is an excellent facilitator at resolving the business aspects of the transaction.
Coral Springs, Fla. (PRWEB) June 18, 2010
The March Group, LLC, a leading, private mergers and acquisitions advisory firm specializing in the sale of middle-market businesses, announced today that Thermacore, Inc. acquired the assets of Pittsburgh Materials Technology, Inc. (PMTI). The March Group represented the seller, PMTI, in the transaction.
When the owners of PMTI, Joseph and JoAnn Giglio, decided to sell their specialty materials technology business after 17 years of operations, finding the right buyer was more important to them than finding the highest bidder. Thermacore, a thermal management solutions provider, proved to be an excellent strategic fit. Following the late-April acquisition, Pittsburgh Materials Technology became a division of Thermacore.
"The March Group kept us on track towards a sale," Joseph Giglio said. "I think [Thermacore's] going to be a good marriage." After "coming to terms with the reality" that they could not work forever, the couple decided to sell and selected The March Group to represent them.
Although other buyers expressed interest in the company, The March Group team worked closely with the Giglios to ensure the ultimate acquisition "made sense." The March Group's Managing Director William Boyer represented Pittsburgh Materials Technology.
"Our clients wanted their company to continue to be a first-class company and maintain its prominence in the industry. They were great to work with. We had extensive communication and that's key," Boyer said. "The acquisition is an excellent fit."
This is the second strategic acquisition for Thermacore in as many years.
In August 2009, Thermacore acquired k Technology Corporation, which designs and manufactures custom thermal management products for cooling high-power density electronic packaging and other applications requiring high-performance heat transfer in the military/aerospace, transportation and industrial markets. PMTI's expertise with extreme temperature metallurgy serves a similar client base.
"We are looking to acquire companies in niches where technology is the differentiator and bring in-house the core competencies from companies that are the best at what they do," explained Jerome Toth, president and CEO of the 40-year-old firm, Thermacore. "PMTI will keep its identity and strive to be successful as part of the [Thermacore] family, but as an individual company."
"The March Group," Toth added, "is an excellent facilitator at resolving the business aspects of the transaction."
Toth said that through these acquisitions, Thermacore can offer its clients custom-engineered solutions designed to resolve their problems. Specifically, the synergistic confluence of the three firms will allow Thermacore to offer clients superior expertise in heat pipe, pyrolytic graphite and metal-joining technologies.
Thermacore's unique, acquisition-driven capabilities will likely provide the firm an edge in an industry trending toward significant five-year growth. A May 11, 2010, report by Electronics.ca Research Network predicted that the value of the global market for thermal management technologies is expected to increase to $10.2 billion in 2015, up 6.4 percent from $7.5 billion in 2010.
"The technological progress has come on two main fronts: increased functionality on a single device, and miniaturization of each unit," the report noted. "Both of these developments have increased the need for thermal management technology."
The March Group Research Director Carl Doerksen said that Thermacore's strategic growth model is increasingly common in today's mergers and acquisitions marketplace where an emphasis on synergy outranks many other traditional acquisition drivers.
"This is a perfect example of a strategic buyer finding a fantastic synergistic fit at a perfect time in its particular industry," said Doerksen. "A recent survey of middle-market strategic buyers revealed that by far the most critical item they look for in targets is strategic fit. This criteria was even ranked higher than EBITDA." See Doerksen's full report on this survey in The March Group's M&A Musings Blog.
For the Giglio's a half-century career in advanced specialty materials technologies, the completion of this strategic acquisition dovetails with their personal objectives. Once the initial transition to Thermacore is complete, the couple hopes to have more time for their 12 grandchildren.
About The March Group
Founded in 1986, The March Group is headquartered in Coral Springs, Florida, and has offices throughout the United States and worldwide. The company employs nearly 200 professionals and has built a dynamic network of business contacts all over the globe. The March Group specializes in the marketing, negotiation and sale of privately held middle-market businesses. The March Group has successfully helped hundreds of business owners sell their companies by connecting them with buyers.
For more information about The March Group, please visit:
The March Group
Corporations for Sale
The March Group on Twitter
The March Group Facebook Page
The March Group LinkedIn Profile
M&A Musings Blog
Corporations for Sale Blog
About Thermacore
Founded in 1970, Thermacore specializes in the custom design, development, and manufacturing of highly engineered thermal management systems and components for a variety of OEM applications across a diversified set of global markets that includes military/aerospace, computer, communication, energy conversion, medical, transportation, test equipment, and automotive. With over 40 years of experience in the design, development and manufacturing of passive two-phase systems, Thermacore brings unparalleled engineering design expertise and thermal solution performance, quality and reliability to these markets.
Thermacore employs more than 175 employees at three facilities located in the United States (Lancaster, Pennsylvania; Langhorne, Pennsylvania; and Ronkonkoma, New York) and one in the United Kingdom (Ashington, Northumberland). Thermacore's facilities are AS 9100 Rev B. standard, ISO 9001:2000 and ISO 14001:2004 certified. For information about Thermacore, visit http://www.thermacore.com.
About Pittsburgh Materials Technology, Inc. (PMTI)
Founded in 1993 following a 30-year history as part of the Westinghouse Electric Corporation, Pittsburgh Materials Technology, Inc. (PMTI) specializes in complex metal joining and the development, fabrication, testing and characterization of high-temperature metallic alloys and other specialty materials for a variety of applications in the aerospace, military and industrial markets.
For over forty years, PMTI has been involved in materials development for applications related to energy production, aircraft and aerospace propulsion, electronics cooling, space power and similar advanced technologies. PMTI offers a wide range of metallurgical knowledge, capabilities and equipment, including material testing (creep, tensile and impact from cryogenic to >2000° C), vacuum arc re-melting, metal forging, metal swaging and rolling, and metal joining (inert atmosphere GTAW, as well as vacuum brazing of aluminum, copper and other alloys). For information about PMTI, visit http://www.pittsburghmaterialstech.com.
###