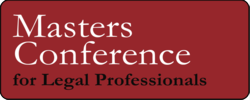 Though a move to using cloud computing brings many benefits that include reduced costs to enhanced uptime, it is often hard to sift through the mountains of misinformation.
Washington, D.C. (PRWEB) April 10, 2013
The Masters Conference for Legal Professionals, an advanced legal educational experience, announced today that Jack Halprin, Esq., Head of e-Discovery, Enterprise at Google, Inc., will deliver the keynote address over lunch at 12:00 – 1:00 on Wednesday, April 17, 2013, at the Masters Series event in San Francisco. This half day event takes place at the City Club of San Francisco.
Mr. Halprin will be discussing "The Cloud: Fear, Irrationality, and Reality" during his keynote address. Technology that leverages the cloud are fast becoming a reality in corporate America. Though a move to using cloud computing brings many benefits that include reduced costs to enhanced uptime, it is often hard to sift through the mountains of misinformation. During Mr. Halprin's keynote address, he will examine the risks and benefits, and why moving to the cloud shouldn't put a company's e-Discovery or corporate governance program at risk.
As head of e-Discovery, Enterprise, at Google, Mr. Halprin ensures Google's legal team has the tools, technology and capabilities to meet e-discovery obligations. He also serves on the team working on the internal records management and information governance program. Mr. Halprin speaks frequently on information governance, risk management and compliance at industry events and seminars. He has authored numerous articles on e-Discovery, social media, cloud computing and knowledge management.
"We are very excited to have Jack Halprin as our keynote speaker at this year's San Francisco Masters Conference Series event" said an enthusiastic Robert Childress, Founder and CEO of The Masters Conference. "As Head of e-Discovery, Enterprise, for Google, Jack brings a wealth of e-discovery experience to our forum. This should be a great session for all of our attendees."
Jack Halprin is actively involved in The Sedona Conference and ACC and is a former member of the Electronic Discovery Reference Model (EDRM) project. Prior to joining Google in 2012, Mr. Halprin served as vice president of e-Discovery and compliance, with Autonomy, where he was a legal subject matter expert and managed the product line strategy for Autonomy's e-Discovery solutions. He has also held various roles with Guidance Software, LexisNexis Applied Discovery and BAR/BRI Bar Review and was a litigation associate at Santa Monica's Haight, Brown & Bonesteel. Mr. Halprin holds a bachelor's degree in chemistry from Yale University, a JD from the University of California, Los Angeles and certifications from the California, Connecticut, Virginia and Patent Bars.
The theme of the 2013 Masters Conference Series is Information Convergence: "Creating Synergy Between Compliance, Discovery and Security". Experts from both technology and legal sectors will explore and share what leading corporations and law firms are doing today to remain compliant to government regulations. The Masters Conference Series sessions will cover the complexities and risks of information security, as well as offer methodologies of protection and proper protocol. The conference will feature thought-leader discussions on what the future holds for discovery and also offers management strategies that focus on information convergence, technology and integration, financial planning, and adherence to the FRCP.
About The Masters Conference
The Masters Conference brings together leading experts and professionals from law firms, corporations and the bench to develop strategies, practices and resources for managing the information life cycle. The Masters Series provides practical CLE education that is delivered by experts with front-line experience for lawyers and litigation support professionals. Attendees will gain practical knowledge, presented by peers, on current issues that can be applied immediately to everyday professional practice. As a global legal conference, The Masters Conference takes the lead to differentiate itself while consistently raising the bar as the most well-respected conference in the legal technology industry.
To register online for the Masters Conference, visit http://themastersconference.com/