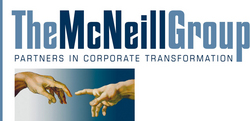 Many mergers and acquisitions have lost significant value for the resulting company
Fort Lauderdale, FL (Vocus) April 7, 2010
The McNeill Group (TMG) recently announced its new Mergers and Acquisitions Consulting practice. TMG, a leader in Executive Coaching and Business Development, has been working with Fortune 1000 companies to transform the culture of their organizations in order to produce quantum leap results for 16 years.
Identifying a need to address the cultural component of M&A transactions, TMG's new consulting practice leverages its extensive industry experience to support businesses in merging diverse organizational cultures. Its proprietary technology has the power to bring two organizations together "marching in lock-step" even when the acquisitions have been hostile.
"Many mergers and acquisitions have lost significant value for the resulting company," says Dan McNeill, founder and CEO of The McNeill Group, "because neither the executives nor their advising investment bankers paid enough attention to merging the cultures versus merging the functions and processes. "
The McNeill Group is already working with one of its Fortune 50 sized clients to merge the culture of its organization with the cultures of its two recent acquisitions. This work can be used to merge the cultures at the executive level and/or the departmental level, such as sales when two sales organizations are being merged.
The McNeill group invites inquiries from both corporate executives responsible for the success of their company's mergers and acquisitions and from their investment banker advisors.
About The McNeill Group: TMG comprises experienced and award-winning Executive Coaches, most of whom have 20+ years experience in corporate America. TMG joins forces with organizations to generate Quantum Leap Results for senior executives, managers, their teams and their shareholders. TMG's services include a range of offerings from one-on-one executive coaching to large leadership development initiatives.
# # #