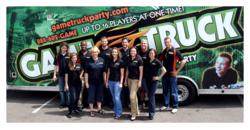 Since I first had the idea in 2004 at my son's birthday party, to the day we built the first rig, we've all worked so hard to innovate every day, execute new ideas, and bring people together
San Jose, CA (PRWEB) November 18, 2011
Game Truck Licensing, LLC has been awarded a patent by the United States Patent and Trademark Office for its method of entertaining using a mobile entertainment environment. The patent identifies GameTruck's unique process of entertaining people in its Mobile Video Game Theater™ and illustrates in detail the features and original concepts created by Bay Area theme parties company, GameTruck.
A successful video game developer, GameTruck's CEO and founder Scott Novis created GameTruck with the goal of providing video gamers with a place to play together. He sees this validation as part of a journey.
"Since I first had the idea in 2004 at my son's birthday party, to the day we built the first rig, we've all worked so hard to innovate every day, execute new ideas, and bring people together. It's an honor to be recognized and protected by the US Patent and Trademark Office for a concept we truly believe has unlimited potential," says Novis.
Outfitted with big screen TVs, the latest video game consoles and newest titles, GameTruck brings a plush 16-player video arcade directly to the customer's door. Their state-of-the-art rigs are formatted as both dual-axle trailers and all-in-one RVs, and are available for private parties, educational and fundraising events, or corporate and public events.
The company has grown steadily since inception, with franchisees operating in more than 50 major domestic markets. Recent international expansion has introduced GameTruck to Lagos, Nigeria, and further plans involve operators in Canada and Trinidad.
For more information on the Bay Area kid's party ideas by GameTruck Party, call (408) 645-6242 or visit them online at http://www.gametruckparty.com/sanjose.
About GameTruck Party
GameTruck Party is the ultimate video game party serving the Bay Area since 2009. Bay Area fundraiser ideas by GameTruck Party is perfect for kids parties, fundraisers and theme parties. They offer a state-of-the-art environment equipped with big screen TVs and the latest video game consoles and the newest titles.
The GameTruck franchise organization is unique in this industry in that the Phoenix operation continues to serve as a means to validate and improve upon the existing business system while providing a platform to introduce new innovations in the industry they created. They continue to work in the business they originally created, remaining focused on bringing people together to enjoy gaming in a multiplayer environment and to provide gamers with the best gaming experience available. Moreover, each GameTruck operation and their staff are committed to providing high quality entertainment at an affordable price.
###