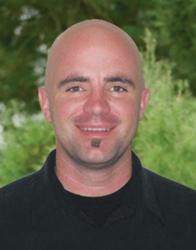 "We are so fortunate and blessed that Sean has joined our team. His passion for the work we do is contagious. In just three months, he has made impressive inroads into every aspect of The Meadows organization," said Jim Dredge, The Meadows CEO.
Wickenburg, AZ (PRWEB) August 03, 2012
The Meadows trauma and addiction treatment center in Wickenburg, Arizona, was pleased to welcome Sean Walsh as the new executive director approximately 90 days ago when he assumed the day-to-day leadership of The Meadows Wickenburg campus.
"We are so fortunate and blessed that Sean has joined our team. His passion for the work we do is contagious. In just three months, he has made impressive inroads into every aspect of The Meadows organization," said Jim Dredge, The Meadows CEO.
According to Sean, his focus was to become familiar with the staff, the systems, and the overall processes for patient care, in addition to looking for areas to grow and strengthen.
One of these areas is the relationship between The Meadows and its referral sources. "I see a key part of my role to be a liaison between referral sources and the clinical team. I've been looking for ways to bridge the gap and strengthen relationships," Sean said. "With a clinical background, I can often speak to referral sources about clinical matters more keenly than the average administrator."
In Sean's first 30 days he instituted the daily FlashMeeting. He saw it as a need or potential avenue for the department heads to have a centralized meeting to staff every patient every day. "Over the last two months it has served as a good venue for the management and leadership team to feel confident that they know what's happening on campus every day," Sean explained.
Streamlining The Meadows' ATA process is another area where Sean has concentrated his attention to have more of a sense of urgency for presenting patients. "We've developed a new system of identifying urgent admissions so that they can get in front of our psychiatric or medical teams. This allows the attending physicians to determine if a potential patient is appropriate for the Meadows in a timely manner," Sean said. "We know the patients and families are eagerly awaiting those decisions. This will help streamline the ATA process and make it more efficient by having a higher level of urgency for presenting patients."
Another important part of the admissions process, according to Sean, is the exclusionary criteria that The Meadows implements. "If we're not the right fit and the patient needs services that we can't provide, we want to make sure they get the care they are in need of. We want to connect them with other quality providers around the country so they get the treatment they are in need of," Sean emphasized.
In June, Sean attended the 23rd Annual International Trauma Conference in Boston that The Meadows has sponsored for the last seven years. The leading neuroscientists and treatment developers on how trauma affects mental and brain functioning presented to nearly 700 attendees during the four-day conference. "It was great to see the world-class leaders in trauma and the partnership that The Meadows has developed with the conference and Dr. Bessel van der Kolk, one of The Meadows Senior Fellows, and the conference director," Sean noted. "Another Meadows Senior Fellow, Dr. Shelley Uram, also attended giving us the opportunity to learn the newest cutting-edge research and best practices that we can take and bring back and incorporate into the treatment that we are already providing."
Sean recognizes the value of The Meadows' Senior Fellows on the Wickenburg campus which allows the staff to take advantage of their latest research and findings. "The Meadows clinical staff has participated in several extremely rich training weekends with Senior Fellows Dr. Peter Levine, the founder of Somatic Experiencing, and Dr. Bessel van der Kolk, one of the foremost trauma research psychiatrists in the world. Other Meadows' Senior Fellows who have given shorter trainings are myself and Dr. Jerry Boriskin. Ana DoValle, a cutting-edge, world renowned trauma therapist, has also provided two training weekends for the staff," said Dr. Shelley Uram, Meadows' Senior Fellow.
Each week The Meadows offers a variety of one-of-a-kind, five day workshops that are available to all interested individuals. These workshops specifically address the needs of those who have not been in inpatient treatment, but are also a source of renewal for anyone who has undergone treatment. "People forget The Meadows is not just a 35 day inpatient program. Our workshops are a vital part of what we do and provide a great resource for those in need," Sean pointed out. "It can be a good catalyst for patients who aren't in need of inpatient level care, but still need that intensive foundation they can build off of in individual therapy when they return home. The Meadows' Workshops can also be beneficial for patients who are hesitant to enter the inpatient program. Often they will try a workshop to begin to understand what we do here at the Meadows and then occasionally decide to go into inpatient treatment. The workshops are great tool regardless of where the patient is at in their recovery."
According to Sean, patient safety is The Meadows number one priority. "If we can't keep our patients safe, we aren't able to do the great work and treatment we pride ourselves in," Sean explained. "We're constantly looking at what we can do to provide a safe environment and a level of accountability that our patients need. Something that distinguishes us from other providers is being a Level 1 acute facility that provides 24 hour nursing."
Recently, Jonathan Henrichsen, a therapeutic and educational consultant, toured The Meadows. He made the following observations echoing Sean's assessment of The Meadows:
"I was really glad to have the opportunity to tour The Meadows. I was especially impressed with the continuum of care and the level of clinical sophistication the program is able to offer. When we have clients who are dealing with dual (or multiple) diagnoses, which is more often the case than not, we need a program that can be tailored to both adequately address all the issues as well as provide a longer term of care than is available under a traditional rehab model. The Meadows is able to do that.
Although The Meadows is known for having high-profile residents from time-to-time, as a visitor to the program I appreciated the steps The Meadows took to ensure the confidentiality of its clientele.
Residential treatment is a people business - it is only as good as the people who are providing it. Given that, I am very glad to have had the opportunity to meet with several different members of the clinical and administrative team, all of whom I found knowledgeable and professional, yet also very personable."
One of the areas that Sean was most excited about his first 90 days is The Meadows contract with TriWest Healthcare Alliance, a sub-contractor of TRICARE, to serve the military as a network provider. "The Meadows has a reputation of being an industry leader with expertise in treating trauma and addiction. We are honored that we can now provide that same treatment to our service members who have given so much to defend our country," Sean said. "The Meadows has set itself apart by going through the process of becoming a network provider with TriWest, which demonstrates The Meadows commitment to giving back."
Sean is now focusing on moving forward at The Meadows. Capital improvements to the campus are on the agenda, in addition to strengthening elements of the program and expanding new programs, such as the young adult population, in addition to strengthening and defining the military track.
Before coming to The Meadows, Sean was very familiar with its reputation. "After 90 days it's easy to see why The Meadows is known as one of the world's best for treatment of trauma and addiction," Sean concluded.
The Meadows is an industry leader in treating trauma and addiction through its inpatient and workshop programs. To learn more about The Meadows' work with trauma and addiction contact an intake coordinator at (866) 856-1279 or visit http://www.themeadows.com.
For over 35 years, The Meadows has been a leading trauma and addiction treatment center. In that time, they have helped more than 20,000 patients in one of their three inpatient centers and 25,000 attendees in national workshops. The Meadows world-class team of Senior Fellows, Psychiatrists, Therapists and Counselors treat the symptoms of addiction and the underlying issues that cause lifelong patterns of self-destructive behavior. The Meadows, with 24 hour nursing and on-site physicians and psychiatrists, is a Level 1 psychiatric hospital that is accredited by the Joint Commission.
###