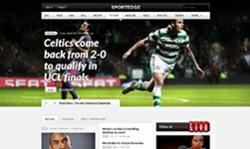 The purpose behind launching SportEdge was to make creating a professional sports news site possible for everyone
Bucharest, Romania (PRWEB) December 15, 2011
ThemeFuse – leading provider of original WordPress themes has launched a new theme – SportEdge – for customers desiring to launch a professionally looking sports news site. The theme can be downloaded from ThemeFuse's website, and then installed in less than five minutes.
SportEdge has been designed to work with one of the most popular website management platforms – WordPress – an open source system widely supported by every major hosting provider.
The theme incorporates a modern, dynamic look, which can be fine-tuned to fit each customer's needs, as well as pre-designed templates for all major sports, including: football, basketball, hockey, soccer, golf, and more.
"The pre-designed templates make it possible for our customers to create every type of website, from mainstream sports news sites to niche sites focusing on just a single discipline," said Dimi Baitanciuc – co-founder of ThemeFuse.
The default homepage contains a custom, dynamic slider, which makes the site look alive and intriguing. The slider can be configured to display a number of selected articles or other additional information.
"The purpose behind launching SportEdge was to make creating a professional sports news site possible for everyone," said Dimi Baitanciuc. "SportEdge is targeted towards customers of any size. No matter if you're a one-person sports blog, or a medium-size publishing agency, our new theme will be a great way for you to launch a professional website with a very small budget."
The focus on ease of use can be felt in many features SportEdge provides. The first feature every user is exposed to is one called "One Click Auto Install." All the initial settings and sample data is set into the theme after just a click of a button, so no customer has to spend time on entering this data by hand, like they would have in many standard WordPress themes.
Other features follow this example by providing users with the possibility to: easily change the logo of the whole website, install Google Analytics code for performance tracking, create custom menus pointing to all main areas of the website, and further customize the homepage to be a unique representation of the whole site.
Additionally, ThemeFuse went ahead to offer their users a very friendly support area along with a comprehensive online documentation.
"Providing quality support and extensive documentation has always been a priority for us," said Dimi Baitanciuc. "We realize that every customer wants to feel that there is someone willing to help them in case they have a problem. Our online documentation is the place where everyone can find basic information about SportEdge, its features, and usage."
For more information, and details on how to get and install SportEdge please visit http://themefuse.com/wp-themes-shop/news-wp-themes/sportedge/
About ThemeFuse:
ThemeFuse (http://themefuse.com/), a commercial WordPress theme shop, focuses on original out of the box design and ease of use for every type of user. ThemeFuse aims at providing their customers with themes that can make every website stand out from the crowd, and also offers dedicated support around the clock.
###