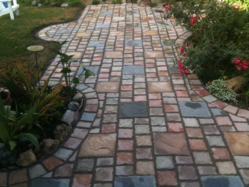 I saved so much money by making the pavers myself!
Port Charlotte, Florida (PRWEB) May 30, 2012
Olde World Stone and TheMoldStore.com are pleased to announce the winners of their 2012 DIY Customer Project Contest. The contest was open to any consumer or commercial customer who used Olde World molds and/or other company products to make stone, tile, pavers, bricks, etc., for a home improvement or garden project.
DIY project votes were cast by the general public by visiting the dedicated contest website and picking their favorite DIY projects each month. The five project categories being voted on were Stone, Tile, Pavers, Combined, and Other. Voters were automatically entered into a monthly drawing for a $25.00 Free Restaurant Gift Card. Voter names were randomly drawn from the list of each category votes for that month. The five monthly winners were notified by email and could choose from any restaurant chain that offered Gift Cards.
The Grand Prize award, a check for $1000.00, was awarded to Kevin Brandon, Garden Grove, CA. His winning entry, a 250 square foot cobblestone paver patio for his back yard, was recognized for its aesthetics, creativity, and craftsmanship. He made over 1,000 cobblestones in his garage using molds from TheMoldStore to complete his patio at a cost of less than $150.00 in concrete and other raw materials. There is both a video of his progress making the stone pavers, and a time-lapse video made by him of the patio installation. Both videos are available on the company's contest website.
The remaining four First Prize Winners in each category, and awarded a $500.00 Shopping Spree in the company's eStore Shopping Cart website, were:
Tim McClelland, (Private address)
Larry Bodenhamer, San Diego, CA
Beth Cummings, Hyde Park, MA
Pegi Brooks, Hazlehurst, MS
The five Runner-Up Prize Winners in the five Project Categories and awarded a $100.00 Shopping Spree in the company's eStore Shopping Cart website, were:
Bruce Mazzoni, Cranberry Twp., PA
Alan Smith, Seymour, IN
Michele Mobbs, Kuranda, Queensland, Australia
Rod Wagner, Amarillo, TX
Marcia Sofonoff, Slocan Park, BC, Canada
According to Olde World Stone & Tile Molds, Inc. President, John Panagos, "we conceived of this contest to illustrate how a typical homeowner could make their own concrete stone, pavers, tile and brick veneer products right at home and save 90% of the retail cost by doing it themselves. I must admit that even after over 20 years in this business, I was surprised at the professional results most of our customers' projects exhibited." He then added, "When you consider that most customers, both male and female, had never worked with concrete or concrete molds before, their project results were amazing. We are so proud to showcase these examples of do-it-yourself craftsmanship and ingenuity on our websites."
Panagos then added, "Congratulations to our talented contest winners in each category. And many thanks for the strong participation by the many customers who entered the contest, and the general public who voted in it."
The company is currently planning their 2013 Customer Project Contest, and is in the process of setting up that dedicated website. Contest announcements will be made on their websites and through their monthly newsletter when the contest opens. Photo entries into the 2013 contest can be submitted to the company's Contest(at)oldeworld(dot)com email address throughout 2012.
Olde World Stone and Tile Molds, Inc. manufactures and markets concrete molds that allow homeowners and other do-it-yourselfers, landscapers, gardeners, and builders to make their own custom concrete products for about 10% of normal retail prices of similar items. Their customer base is both men and women, with women holding a slight edge in numbers. Complete instructions and support are provided, including a free dedicated Training and Instructions website and a direct support email address. There is also additional training available should the customer want to start a full or part-time commercial business making these products locally. Complete business start-up information is available on their Business Opportunity website. Plans are in the works for the introduction of an international licensing program as well.