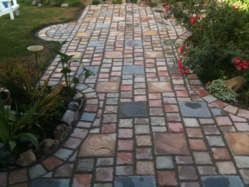 This project was easier than I thought it would be!
Port Charlotte, Florida (PRWEB) April 19, 2012
The project contest is open to all customers of TheMoldStore.com who used the company's concrete molds to make their own custom stone, tile, pavers, or brick veneer at home. Photos or videos of customers' projects are submitted by them and the company places them on their dedicated contest website, where the general public votes for their favorite projects. Contest voters have chances of winning a $25.00 Free Lunch each month during the contest, and a $500.00 Shopping Spree on the company website for their participation at the end of the contest.
According to Olde World Stone and Tile Molds, Inc. President, John Panagos, "we conceived of this contest to illustrate how a typical homeowner could make their own concrete stone, pavers, tile and brick veneer products right at home and save 90% of the retail cost by doing it themselves. I must admit that even after over 20 years in this business, I was surprised at the professional results most of our customers' projects exhibited." He then added, "When you consider that most customers, both male and female, had never worked with concrete or concrete molds before, their project results were amazing. We are proud to showcase yet one more example of good old American ingenuity."
Just like "Dancing with the Stars", "The Voice", and "American Idol", voters can support a home town contestant and help them win by voting for their do-it-yourself project entry. And voters have a chance to win a monthly $25.00 Free Lunch at a restaurant of choice, or a Shopping Spree on TheMoldstore Shopping Cart website for their efforts. And since this year's contest ends this month, the wait for the results won't be long. Why not visit the website and get some great ideas for a home or garden project to enter into TheMoldStore.com, 2012 Customer Project Contest starting this summer?
TheMoldStore.com manufactures and markets concrete molds that allows homeowners and other do-it-yourselfers, landscapers, gardeners, and builders to make their own custom concrete products for about 10% of normal retail prices of similar items. Their customer base is both men and women, with women holding a slight edge in numbers. Complete instructions and support are provided, including a free dedicated Training and Instructions website. There is also additional training available should the customer want to start a full or part-time business making these products locally. Complete business start-up information is available on their Business Opportunity website.
Click here to visit the Olde World Stone & Tile Molds, Inc. Customer Project Contest website, and vote for your favorite projects.