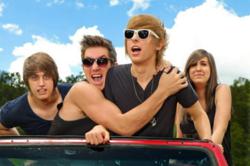 The Monster Goes Rawrr takes electronic-based rock to a new level
New York, NY (PRWEB) November 15, 2011
NYC-based music management company Five Alive Management LLC has signed Powerpop Dance Rockers The Monster Goes Rawrr. The band, from Brisbane, Australia, has achieved a sound that takes electronic-based rock to a new level. Since forming in mid-2009, they have supported numerous national acts including 3OH!3, You Me At Six and Kids In Glass Houses, The Secret Handshake, and Closure In Moscow. In addition, their music has been featured in The Real World, Bad Girls Club, The Spin Crowd, and Keeping Up With The Kardashians. Currently, The Monster Goes Rawrr is working with producer Kyle Black and will be releasing a new album in 2012.
About Five Alive Management LLC:
Five Alive Management LLC was founded by Jon Maisel in the spring of 2011. Mr. Maisel has a J.D. from Thomas M. Cooley Law School and a B.S. in Communication from the University of Miami. He previously opened for Incubus, Trapt, and Collective Soul while playing guitar for the band Gone To Earth.
###