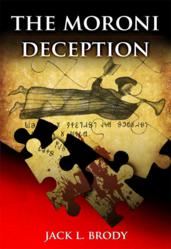 Described by some as 'The Mormon Da Vinci Code'.
Charlotte, NC (PRWEB) September 05, 2012
"The Moroni Deception" is the political thriller of the season and a must read book no matter your political persuasion. A great read for Republicans, Democrats, Independents, Labour, Conservatives, Libertarians, Green, Tea Party and more.
For the first time, the very real possibility exists that a Mormon will be elected President. Jack Brody's fast-paced conspiracy thriller features a Mormon senator who will say or do just about anything to get elected President. In the tradition of Dan Brown's "The Da Vinci Code," "The Moroni Deception" is a conspiracy thriller that employs the history and beliefs of the Mormon Church as its backdrop. Order your copy today on Amazon.com and read the novel that everyone in the political establishment will be talking about.
Who was Moroni?
One of the most important figures in the theology of the Latter Day Saints (Mormon), Moroni was an ancient prophet believed to have buried Golden Plates containing the sacred history of the Americas compiled by his father, Mormon, in the early Fifth century. Fourteen hundred years later in Palmyra, New York, Moroni appeared to a young Joseph Smith as an angel and directed him to the burial site of the plates. Smith then went on to translate the ancient texts and write "The Book of Mormon."
What is "The Moroni Deception"?
Described by some as the "'The Girl with the Dragon Tattoo' meets the Mormon 'Da Vinci Code,'" this cerebral thriller is an investigative quest with plenty of twists and turns. A long forgotten massacre, a secret brotherhood of assassins, and a prophecy about a Mormon being elected President and saving the United States from collapse and then returning the country to the "one true faith" sound like the stuff of fiction, but Brody has uncovered these and other seemingly unbelievable finds.
After reading Jon Krakaur's best-selling "Under the Banner of Heaven," Brody researched the Church of the Latter Day Saints for an entire year before beginning "The Moroni Deception."
Jack L. Brody, the first-time author of "The Moroni Deception" is available for interviews by phone or through email. Email your media enquiries to Jack(dot)L(dot)Brody(at)Gmail(dot)com or Visigoth(dot)Press(at)gmail(dot)com.
For more information about Jack L. Brody and The Moroni Deception, go to http://www.themoronideception.com/
The Moroni Deception, Visigoth Press, 2012.