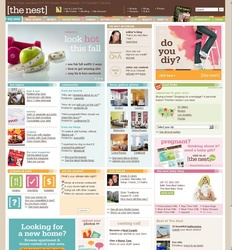 They told us what they wanted, and we are thrilled to release a new site that is entirely devoted to their needs and desires.
NEW YORK (PRWEB) September 28, 2007
Sister to wedding site TheKnot.com, TheNest.com is the go-to advice resource for a vast and loyal community of couples in their 20s and 30s that are building and organizing their lives together--from buying first homes to organizing their finances, decorating, entertaining and relating. Fulfilling the demand for even more content, the new TheNest.com includes interactive tools, calculators, photo databases, "best of the web" guides, blogging tools, photo sharing, plus expert Q+A and richer editorial advice.
"Our community of smart, busy women is using the Internet to research and organize every aspect of their lives," explains Carley Roney, cofounder and editor in chief of The Nest. "They told us what they wanted, and we are thrilled to release a new site that is entirely devoted to their needs and desires."
Highlights of the site include:
MONEY CHANNEL: Getting out of debt, making a monthly budget, learning how to invest, filing taxes jointly, buying insurance, and merging your money--TheNest.com/money helps you get your finances in serious order for the first time. Interactive features include a household budgeting tool, a savings calculator and weekly Q+A with personal wealth management expert Robert Pagliarini.
REAL ESTATE CHANNEL: Deciding to rent or to buy, house hunting, finding the right broker, choosing insurance (even for renters!), getting a mortgage and home improvement tips in a new blog by Barbara K--TheNest.com/realestate helps out first time homeowners. Interactive features include a mortgage calculator, mortgage checklists, a home inspection checklist, home buying checklists and a weekly "Just Moved!" section, detailing a couple's recent home purchase (including price and photos!).
DECOR CHANNEL: Picking paint colors, organizing your closets, making tiny spaces feel bigger, and merging his and her styles--TheNest.com/decortricks gives easy decorating advice. Our Decor Gallery has hundreds of inspiring photos--64 gorgeous bedrooms, 82 living rooms, 20 entryways, plus bathrooms, home offices and more. Experts include New York socialite-turned-interior-design-genius Celerie Kemble and nationally renowned garden designer Sean Conway. Plus: Real Home Slideshows, a new community feature.
DINNER CHANNEL: Hundreds of easy dinner recipes, all with photos--40 chicken dinners, 30 pasta dinners, plus slow-cooker, low-fat and under 15 minute meal categories. Advice on how to store cheese, stocking your bar, and how to set the table. Plus quizzes (how well do you know wine?); checklists (Top Pantry Essentials); as well as a daily Q+A blog by foodie Colleen Rush.
BUYING GUIDE CHANNEL: Shopping for a flat screen TV, shutting off your landline, leasing a car vs. buying--TheNest.com/buyingguides gives advice on all big purchases from sound systems to refrigerators, cars and couches. Also: the best places to shop online and real people product reviews.
LOVE/SEX CHANNEL: Getting along with the in-laws, jazzing up your sex life, making couple friends, and date-night ideas--TheNest.com/love dishes out advice on love and relationships. Sex expert Dr. Pam hosts a weekly Sex Q+A blog that explains everything from far-out fetishes to the best positions to get pregnant.
To speak with an editor at The Nest, get high-resolution photos, or speak with real couples about these hot topics and more on married life, please contact Katie Nida-Rovano at (212) 219-8555 x1228 or email [email protected]
About The Nest
The Nest (http://www.thenest.com) is a hip guide to all things happily ever after. The popular offshoot of The Knot takes a stylish, practical approach to what all young marrieds need to know: from merging finances to buying and decorating homes, cooking and entertaining, family relationships and more through weekly blogs, expert Q&A, an online community, interactive tools and a quarterly magazine. The Nest is a part of The Knot Inc., a lifestage network (NASDAQ: KNOT).