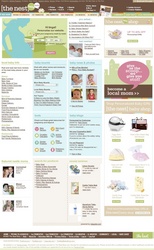 The little one's bossy already, he likes his personal space.
NEW YORK (PRWEB) September 18, 2007
FIVE PREGNANCY ETIQUETTE FAUX PAS
FAUX PAS #1: "LET ME TOUCH YOUR BELLY!"
We're all guilty of the belly rub... it's hard to resist. But hold back unless you ask the mom first. Not only is it scary and weird when someone, whether it's a stranger or even a relative, touches her, but a woman's belly is private, and she may not want you reaching for it.
What to Say or Do in Response: As the hand moves in, cover your belly and jokingly say, "The little one's bossy already, he likes his personal space."
FAUX PAS #2: "I WAS IN LABOR FOR 36 HOURS AND I TORE LIKE YOU WOULDN'T BELIEVE!"
Imagine hearing your own mother-in-law describing in detail how she gave birth to your husband. Are you squirming yet? It's only natural to want to share your own personal experiences and think that it may offer some helpful advice. But just because you were in labor for 36 hours doesn't mean she wants to hear all the gory details. You'll only scare her (and the baby) with your stories.
What to Say and Do in Response: You may gain some bits of useful advice from these war stories, but if the conversation gets too graphic, say in a mock grave voice, "You've seriously got to stop - I think my morning sickness is coming back."
FAUX PAS #3: "WOW, YOU'RE HUGE! ARE YOU HAVING TWINS?"
First of all, pregnant or not, no one ever likes to be reminded of their weight gain. Whether you genuinely are wondering if she's having twins or it's your way of saying she's going to have a big healthy baby, keep any comments related to weight gain to yourself. After all, we all know this could sound like an evil way of saying "Wow, you're one big heifer."
What to Say or Do in Response: Think of it this way - who wants a peewee baby? So proudly rub your tummy and say, "Nope, not twins. I'm just carrying the next linebacker for the New York Giants."
FAUX PAS #4: "OHHH, I KNEW A (INSERT NAME). HE WAS THE BIGGEST GEEK IN HIGH SCHOOL."
Ouch. Whether it's a high school geek or horrid ex-boyfriend, we can't help but connect a name to someone in our past. But it's best to keep your opinions to yourself, or better yet, not even ask what they're planning on naming the baby.
"This is a seemingly harmless question and is one of the most hotly debated topics for parents-to-be," says Carley Roney, TheNestBaby.com editor in chief. "Naming a child is one of the most personal things for parents, and it's hard enough to decide on a name without a committee chiming in. Plus, parents may want to keep the name a secret in case someone 'steals' the name."
What to Say or Do in Response: If only you could say who her name reminds you of, right? So just grin and say, "Good thing all geeks grow up to be billionaires."
FAUX PAS #5: "COME ON, ONE DRINK WON'T HURT."
No one likes a pusher. If your friend who normally drinks more than her share of Sauvignon switches to sparkling water, take it as a sign and don't order a round of martinis. Your "in the baby zone" friend will become tired of saying that she's "not feeling well" and be less apt to come out next time.
What to Say or Do in Response: Save yourself a response by ordering a soda water with lemon in it - it'll look just like a cocktail. Or jokingly say, "No way, I don't want him ending up in AA by the time he's a toddler!"
THE FIVE WORST LINES TO SAY TO A PREGNANT WOMAN
"You'd be appalled by what some people have said to moms-to-be," added Roney. Based on feedback from the moms on TheNestBaby.com message boards, Roney recommends staying away from making these comments to a pregnant woman:
Number Five: "Was it planned or a surprise?"
Why: No matter what time of year (or of life) a pregnancy occurs, it is never appropriate to ask about people's birth control (or lack thereof) details.
Number Four: "Well, maybe you'll have a girl next time."
Why: Just because you may have personally had your heart set on a specific gender, that doesn't mean everyone else has the same preference. Even if others might secretly want a boy or a girl, there's no need to ever assume that they're bummed about it.
Number Three: "Twins! Are they natural or did you take drugs?"
Why: There are a lot of fertility drugs out there that have caused the multiples rate to soar. But not all fertility treatments result in twins, and not all twins are the result of a medical intervention. So, you can wonder, but please don't ask.
Number Two: "You're so huge! I can't believe you have two months left."
Why: Yes, she has a baby in there, but still - no one likes to be called huge. Ever.
And the Number One Worst Line to Say: "I hope this one works out."
Why: Believe it or not, several moms claim to have gotten this reply when announcing a pregnancy after prior miscarriages. Even if your intentions are good, hold back from saying anything that implies misgivings about the good news. It's just plain rude.
When hearing about someone's pregnancy, it can be hard to catch yourself from committing unintended offensive remarks. So for tips on what is appropriate to say to someone newly preggers, visit TheNestBaby.com.
About TheNestBaby.com
TheNestBaby.com (http://www.thenestbaby.com) is a word-of-mouth web hub for first-time parents, offering comprehensive stage-by-stage advice, enhanced community features, tools and checklists, Q&A expert advice, local reviews, and a baby and gift shop. The popular offshoot of TheNestBaby.com is part of The Knot Inc. (NASDAQ: KNOT) lifestage media network.
NOTE TO EDITORS: To interview an expert or executive from TheNestBaby.com, or to obtain statistics, tips, checklists, or high-resolution photos, contact Jacalyn Lee, Public Relations Manager at (212) 219-8555 x1013 or Jacalyn@theknot.com.