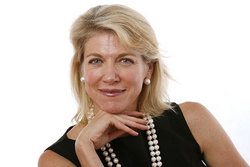 Women's progress is human progress — Hillary Clinton, March 2010
New York, NY (PRWEB) May 3, 2010
A national women's organization will honor Lady Lynn Forester de Rothschild in an event at Thomson Reuters Building in New York City on Thursday, May 6. The New Agenda, a non-partisan voice for all women, credits Lynn Forester de Rothschild as an inspirational force in its formation and growth during the 2008 presidential election.
What began as a grass-roots effort aimed at preserving Hillary Clinton's legacy evolved into a national organization to advance key goals for women. Amy Siskind, President of The New Agenda, concedes a new brand of feminism emerged from the last presidential election: "For millions of women, 2008 was an awakening," says Amy Siskind. "Sexism was not only very much alive, but thriving."
Since then, the New Agenda has held some of the most powerful figures in media and politics accountable for blatant sexist attacks and continues to defend women on both sides of the aisle, most notably, former Vice Presidential candidate Sarah Palin who has been the victim of relentless "sexualization" and innuendo by public figures, media and late night talk show hosts.
The New Agenda brings together some of the most influential women in media and corporate America for a candid discussion on our path to gender equality.
Tickets are still available and may be purchased online here.
Media are encouraged to attend and may call either contact above or email:
editor(at)thenewagenda(dot)net
diane(at)andoniapr(dot)com
Event Details:
The New Agenda Presents: A New Vision: Blazing A Path To Parity
Date: Thursday, May 6, 2010
Time: 6:00-6:30 pm Reception for Benefit Committee
7:00 pm Program, Dinner
Featuring:
Lynn Forester de Rothschild
Maria Bartiromo, CNBC
Anne Kornblut, Author of Notes from the Cracked Ceiling
Lis Wiehl, FOX News Commentator, Legal Analyst
Amy Siskind, President, The New Agenda
Location:
Headquarters of Thomson Reuters
3 Times Square, New York, NY
The New Agenda is a 501(c)(4) organization dedicated to improving the lives of women and girls by bringing about systemic change in the media, at the workplace, at school and at home.
# # #