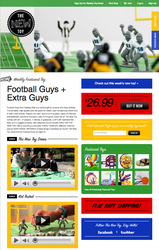 Each weekly featured toy is hand-picked for the site from amongst the best new toys and games with the two essential requirements that it must be fun and of good quality.
Chicago, IL (PRWEB) October 20, 2010
Independent toy store My Favorite Toy Store (MFTS) is bringing its focus on personalized customer service and its comprehensive knowledge of fun high-quality toys to families across the Internet by opening http://www.thenewtoy.com, an online toy store offering deals on and detailed information about a select assortment of hand-picked new toys each week.
Huge faceless online toy vendors like Amazon, Target, or WalMart lack the comforting personal touch of a neighborhood toy store, offering overwhelming quantities of bulk playthings with no easy way for shoppers to determine the quality of each toy or how well it will meet the needs of a particular child. Shopping at thenewtoy.com (TNT), on the other hand, combines the experience of learning about the best new toys first-hand from enthusiastic experts and kids with the convenience of online shopping from home.
TNT uses hi-res photos, videos (viewable at both thenewtoy.com (http://www.thenewtoy.com) and at their personal YouTube channel (http://www.youtube.com/user/TheNewToyVideos)), and detailed written descriptions to explain to shoppers what is great about each toy in its gallery. In The New Toy Demo videos shot on location around Chicago, host James Geisen (son of My Favorite Toy Store founder Mike Geisen) chats about the features of each new toy and demonstrates how to have fun playing with it, just the way any knowledgeable staff member from one of the brick-and-mortar My Favorite Toy Store would do for an in-store customer. Kid Demo videos, then, show actual kids opening each toy and having lots of fun exploring how to play with it. After all, who has more experience with reviewing and playing with toys than kids?
Rather than stocking a huge range of toys in bulk amounts, TNT is selective. They serve up "the cream of the crop" each week and feature no more than nine toys at a time. Each weekly featured toy is hand-picked for the site from amongst the best new toys and games with the two essential requirements that it must be fun and of good quality. Each deal is hosted for only a limited span of days, with the most popular items quickly sold out.
Many online toy stores that sell specialty toys make customers pay expensive prices for their premium merchandise. By working directly with vendors and toymakers, however, thenewtoy.com is able to offer each of the high-quality toys in its collection at a very competitive price.
It is easy for parents to stay informed about the latest toy deals at thenewtoy.com. Families can sign up online to receive a free weekly toy email from the site or connect with TNT by joining their Facebook page (http://www.facebook.com/pages/The-New-Toy/146390498715607) and/or following them on twitter.
Visitors to thenewtoy.com will be able to purchase new playthings that are environmentally conscious and promote active play and learning from quality brands such as PlaSmart, Cloud b, Ravensburger, Green Toys, Learning Resources, and Thames & Kosmos. Each customer can buy an unlimited number of items that will ship at a flat-rate of $5.95 for all UPS ground orders.
TNT plans to offer gift wrapping and gift cards in the near future. As TNT grows, it also plans to partner with smaller companies to help bring their toys to the attention of the toy-buying public.
About My Favorite Toy Store
My Favorite Toy Store (MFTS), which opened its first brick-and-mortar location in the suburb of Downers Grove outside of Chicago in 2001, has spent the last decade developing a strong relationship with its community by offering hands-on, expert customer service and a stock of carefully selected high-quality toys. This local independent toy store concentrates on carrying specialty toys that are educational, creative, eco-friendly, and above all fun.
After opening its second location in the Chicago suburb of Elmhurst in 2005, MFTS is now turning its attention to the Internet, bringing its trademark level of thought and care along with a selective number of its unique toys to the online shoppers who visit thenewtoy.com.
About thenewtoy.com website and logos
Creative Chicago web design firm One Design is responsible for the playful look of the thenewtoy.com website. One Design is a part of the Post Family artist collective that has gained national attention lately for a variety of projects, including the Obama campaign's web and graphic design.
The logos used by TNT are all created by artists and customers from around the country. Each TNT order ships to customers with a fun "design our logo" coloring page included in the package that families can complete and email back to TNT where it might be turned into a new logo to be used on the site or in a demo video.
# # #