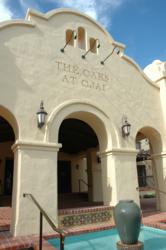 Founded by internationally- known fitness expert, Sheila Cluff, The Oaks pioneered the destination spa industry, and is known as one of the true weight-loss spas in the U.S. – the average guest loses three pounds in five days.
Ojai, CA (PRWEB) April 16, 2012
The Oaks at Ojai, one of the first and most beloved destination spas in the country, offers new products, services, classes and activities just in time for a spring tune up. Guests who visit each year look to lose a few pounds (or more,) kick-start a wellness regimen or enjoy a weekend getaway to cleanse and recharge their batteries.
The Oaks recognized was recognized by Conde Nast Traveler, Spa Finder, Spa Magazine and Spas of America and here are a few reasons why:
NEW PRODUCTS AND SERVICES AT THE OAKS
Achy Breaky Recovery Massage -- After a day's workout, muscle soreness is common. The herb Arnica (Arnica montana) has been used for medicinal purposes since the 1500s and has been used to soothe muscle aches, reduce inflammation, and heal wounds. The Oaks has developed a treatment that focuses on joint pain and relieving it.
Jane Iredale Cosmetics -- Mineral based cosmetics are beneficial to the skin. They are non-comedogenic, will not block pores, are non-allergenic, anti-inflammatory, water resistant and offer complete coverage for skin conditions and sun protection. Ojai resident Linda Winn offers guests a complimentary make-up application with purchase.
Acupressure Massage for Metabolism – This new treatment is a relaxing, full-body massage focusing on stimulating specific acupuncture points that affect food and water metabolism as well as energy production. This encourages weight loss. This massage uses a combination of the Swedish technique for full body relaxation and acupressure to gently stimulate the pressure points connected to metabolism.
G.M. Collin Collagen Regeneration Facial -- With age, the cellular renewal process is delayed. Facial contours lose their definition and the skin appears to sag. This treatment includes AHA exfoliation and the best available collagen product to provide intense hydration, firm the skin, and reduce appearance of aging.
NEW CLASSES AND ACTIVITIES AT THE OAKS
The Oaks Art Stroll–Ojai's renown as an artist community is in full display at The Oaks. Not only are local artists' work displayed throughout The Oaks, but Sheila Cluff, founder, and her staff, lead a weekly art stroll through town. This activity is just one of the several "hyper local" offerings at The Oaks. Guests visit the Ojai Humane Society, where they love feeding carrots to horses. The Oaks' Olive Oil and Art Tour takes guests on a tour of the Ojai Olive Farm, with plenty of olive oil and balsamic vinegar tasting, followed by a tour of two art studios.
Mother Daughter Special May 11-18 – Offered twice a year, this popular theme week is a perfect time for mother/daughter bonding and rejuvenation. Each daughter (or son) sharing a room with their mom gets a 40 percent discount, with rates starting at $119 per daughter/per night.
Sleeping Together: How to Share the Bed and Bedroom for Maximum Benefit June 8-10 According to the U.S. Centers for Disease Control and Prevention (2010), over 25 percent of Americans experience occasional sleep deprivation. The Oaks now offers a value-added theme weekend that explores what about the opposite sex that we most want to understand so we can share the bedroom and bed for maximum benefits.
Father's Day or His/Her Discount -- June 15-22 – Here's a chance to workout and play together. Sharing a room at The Oaks with the man in your life includes a 40 percent discount for one of the guests. He can enjoy extended hikes and complimentary passes to the Ojai Valley Athletic Club.
Ojai Wine/Ojai Music Festivals -- June – The Oaks is a perfect base camp for two great Ojai events. The Ojai Wine Festival, June 10, will feature 60 wineries and 20 premium beers and microbrews with complimentary boat rides on Lake Casitas. One of the most anticipated events of the year, hotels in Ojai are normally sold out for The Ojai Music Festival, June 7-10 – but The Oaks usually has availability. Healthy spa cuisine, assorted walks and fitness classes, relaxing by the pool AND across the street from the 65th Annual Music Festival - this year features Leif Ove Andsnes, Musical Director.
The Oaks at Ojai is located at 122 East Ojai Avenue (Ojai's main street). Become a fan on Facebook and Twitter.