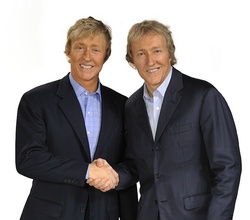 Collect This! with the Keno Brothers
High Point, NC (Vocus) March 2, 2010
Theodore Alexander has announced their collaboration with the acclaimed Keno brothers to produce and market a furniture collection based on the brothers' love of antiques and vintage modern furniture. The "Keno Bros." collection will be unveiled during the High Point Market held April 17-22, 2010 in the Theodore Alexander showroom located at 201 Steele Street in High Point.
Harvey Dondero, CEO of Theodore Alexander noted, "Leigh and Leslie Keno are extraordinary experts of furniture from all periods, which make them perfect partners for Theodore Alexander. Their impeccable standards with respect to quality and construction mirrored our own, and their incredible knowledge of furniture and design made the entire process a pleasure."
Twin brothers Leigh and Leslie Keno have been interested in rare Americana for more than thirty years, and are acknowledged experts in the field. In 2005, President Bush awarded them with the National Humanities Medal, in recognition of those who strive to deepen the public's knowledge of the humanities, during a distinguished ceremony held at the White House. The Humanities Medal is a highly prestigious honor, and medal recipients do not compete for this award, but are specially selected by the President for their life-long achievements in their diverse areas of expertise.
They have achieved celebrity status as appraisers on the highly rated PBS show "Antiques Roadshow," with 10 million viewers watching weekly. In 2003-2004 they were hosts of the PBS show Find! and since 2008 they have also hosted the show "Collect This! with the Keno Brothers" on MSN. Aside from their television duties, Leigh owns and operates Keno Auctions in New York, while Leslie serves as Senior Vice President and Director of American Furniture and Decorative Arts at Sotheby's in New York. The brothers are also accomplished writers, authoring a book on antiques called Hidden Treasures: Searching for Masterpieces of American Furniture. They have written monthly furniture and design columns for House Beautiful and This Old House and are often featured in Traditional Home.
The "Keno Bros." collection is a captivating assortment encompassing over 40 select pieces, taking the best of earlier periods and combining them in a perfect synthesis of traditional styling enhanced with fresh, modern appeal. Realizing American homes are a blend of old and new, the Kenos focused on creating timeless classics that will become the heirlooms of tomorrow. Their enduring passion for sculpture, furniture, paintings, and rare objects transforms into a line of home furnishings where fine craftsmanship returns to the forefront. Many items are easily adaptable in various home environments, and incorporate functionality through design and purpose.
"We believe furniture has to be good through and through—not just beautiful, but well made. We love pieces that are simple, functional, and easy to care for," states Leslie Keno. Leigh continues, "People always ask us, 'what furniture is being made today that will be collectible tomorrow'? And we tell them, 'it's pieces that show true craftsmanship and quality.'"
This collection is very personal for the brothers, notes Leigh, adding, "Theodore Alexander is a company that cares passionately about quality construction as well as great design. After seeing the things they've made, we know that craftsmanship is key here." The Kenos have created the perfect blend of the best of earlier period pieces and their own personal design ideas. Created to appeal to a broad range of ages and lifestyles, seasoned furniture buyers and those new to the art of collecting will appreciate the investment quality of the "Keno Bros." collection. Families will find the functionality and craftsmanship to meet their lifestyle needs. The integrity of historically based traditional and modern designs represents lasting value for today's owners to pass on to future generations.
About Theodore Alexander
Theodore Alexander is renowned for unmatched craftsmanship, exquisite finishes and extraordinary design. Covering a diversity of periods and styles, their collections encompass thousands of unique lighting, home accents, case goods, and upholstered furnishings. Theodore Alexander and its licensed Althorp Living History collection are available throughout the world at fine furniture galleries and design centers. For more information, please visit http://www.theodorealexander.com .
About the Keno Brothers
For more than thirty years, Leigh and Leslie Keno have been the foremost experts in art and antiques. Leigh is currently President of Keno Auctions, a full service auction house based in Manhattan. Prior to Keno Auctions, Leigh owned and operated Leigh Keno American Antiques for twenty-three years. Leslie has been with Sotheby's in New York for thirty years and serves as the company's Senior Vice President and Director of American Furniture and Decorative Arts. The award-winning brothers have authored a book, written columns for popular magazines, and hosted or appeared on a variety of television shows that focus on art, antiques, furnishings, and design. The Keno Bros. collection of home furnishings from Theodore Alexander will debut in 2010.
Contact:
Kathy Wall
The Media Matters, Inc.
ph: 336.956.2488
kwall(at)themediamatters(dot)com
###