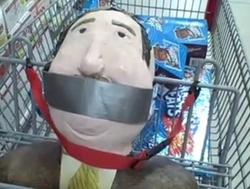 Lansing, MI (PRWEB) March 25, 2009
In the second episode of her show, The Optimistic Beat, eternal optimist and positive thinker Jackie Monroe risks it all as she bravely puts her good name on the line.
In an effort to help viewers understand how make to the most of their self-control and moment-to-moment optimizing strategies, Jackie Monroe takes her show on the road in an experiment to document how grocery shopping while staying health-conscious can be a battle of wills and inner-voices.
Her show, The Optimistic Beat, targets the followers of Jackie's guest, Dr. Russ Buss, a Positive Psychologist. Dr. Russ Buss blogs about moment-to-moment optimism, and focuses much of his content on ways to cultivate optimism and positive thinking in today's ever pessimistic world.
The "Beat" is a sometimes-satirical companion show to the blog, and helps find and present positive aspects of everyday life in an effort to help viewers and readers develop a more optimistic outlook.
In this episode, viewers watch as Jackie's self-control slowly unravels and she gives into her compulsive marshmallow eating habit, one treat at a time. Thankfully, all is not lost and the ever-gentlemanly Dr. Buss is able help Jackie create new strategies for shopping on a diet.
Dieters will identify with Jackie's sincere efforts to do what is right and at the same time laugh as they watch Jackie succumb to the monster that is Negative Inner Voice.
With her positive brand of honest humor and her heartfelt wishes to share Dr. Buss's insights with others, Jackie Monroe is sure to "beat" down the doors of pessimism and negative thinking and encourage us all to overcome our compulsive, negative habits! Get on the bus and join the Dr. Russ Buss revolution.
###