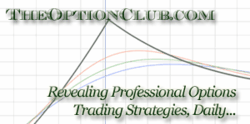 ...I get it. I am one happy camper! Your ability to communicate the underlying conceptual differences between stocks and options was just beautifully expressed... Laurel E.
Santa Clarita, CA (PRWEB) May 26, 2011
Arrangements made by TheOptionClub.com and Sheridan Mentoring now make it possible to attend their Strategic Options Portfolio presentation through a live simulcast over the Internet. Each on-line attendee will enjoy a "virtual seat" in the Chicago Board Options Exchange classroom from which they may view the entire classroom presentation, participate in discussions, and ask questions.
This option trading presentation is a live full-day educational program in Chicago, IL, at the Chicago Board Options Exchange on June 16, 2011. Featured presenters include Christopher Smith, the founder of TheOptionClub.com, a vibrant and growing on-line options trading community, and Dan Sheridan from Sheridan Mentoring.
The purpose of the event is to provide retail investors and traders an opportunity to examine the extreme market volatility of the last decade and gain greater insight into the methods by which a traditional diversified stock portfolio might be augmented with options to reduce portfolio volatility and better protect investment capital, while still pursuing market-beating performance.
The Strategic Options Portfolio presentation is an ideal accompaniment to more traditional options educational courses, which tend to focus upon options as a trading vehicle. All attendees will have the opportunity to learn and gain insight into how discrete option trading strategies and techniques might be combined and incorporated into a comprehensive portfolio management strategy.
Those persons attending the event in person at the Chicago Board Options Exchange will also be invited to participate in a tour of the CBOE trading floor during live market hours and will also enjoy both a catered lunch at the CBOE and a no-host dinner with Dan Sheridan and Christopher Smith following the event.
The classroom presentation will be recorded and all attendees, both those attending on-line and in person, will enjoy access to the simulcast re-play for an additional six months following the presentation.
Those investors and traders interested in attending should visit http://www.theoptionclub.com/ for details. Registrations are underway.
About TheOptionClub.com:
TheOptionClub.com was founded in 2003 as an on-line options trading community and continues to serve that purpose today. Additional education, training and mentoring is provided through TheOptionClub.com's Trading Room where members enjoy weekly live on-line training events, access to a growing video and download library, a private member's support forum, and more.
Follow TheOptionClub.com on Twitter: twitter.com/theoptionclub
# # #