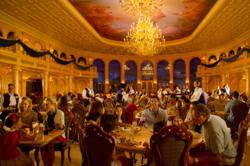 Servers carefully hide any indication of behind-the-scenes action: registers, dishes and silverware are hidden behind curtains and the kitchens are behind walls and pillars in a labyrinth set up
Orlando, FL (PRWEB) December 01, 2012
The Orlando Vacation Store, a lead seller of Orlando vacation packages, released a detailed review of the restaurant and surrounding area saying Disney has created another winner.
As part of the Fantasyland Expansion, Disney has constructed the Beast's Castle as well as the surrounding area and Bell's quiet French village. The centerpiece of this area is of course, the Be Our Guest Restaurant that is carved beautifully into a rocky hillside and includes all of the details one might expect from the movie. In the review, a TOVS representative stated:
"…The inner décor of the building is everything I hoped it would be. The ceiling is painted like the one in the ballroom of the film and there are two grand chandeliers that hang delicately over the seating area. On your way to your table, there are tapestries, mosaics and statues that include characters in the film. Just overhead, on the main archway, is a giant statue of the Beast's head…"
The popular blog included in its review not only detailed information and photos, but also a full video tour of each of the restaurant's four exclusive rooms giving readers every detail on the secretive restaurant.
The illusion is vigilantly set up. According to the review: "Servers carefully hide any indication of behind-the-scenes action: registers, dishes and silverware are hidden behind curtains and the kitchens are behind walls and pillars in a labyrinth set up".
About The Orlando Vacation Store
The Orlando Vacation Store is a local travel company that handpicks the best hotels according to quality, location and features, and negotiates the best wholesaler rate to offer guests the best deals on their trip. The hotel, park tickets and/or car rentals are combined into a discounted and stress free vacation package. TOVS has the advantage of knowing all the tricks to planning and saving money on every aspect of an Orlando vacation.