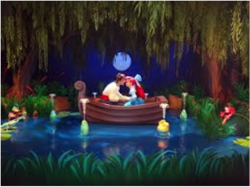 The overall feeling of the ride, like most of Disney's attractions is one of wonder, joy and discovery. I fully enjoyed it and give this ride 5/5 stars
(PRWEB) December 03, 2012
The Orlando Vacation Store, a lead seller of Orlando vacation packages, released a detailed review of the ride, calling it one of Disney's best.
The reviewer praised the ride, saying: "The overall feeling of the ride, like most of Disney's attractions is one of wonder, joy and discovery. I fully enjoyed it and give this ride 5/5 stars."
The ride moves guests in a series of seashells that are much like the doom buggies on the Haunted Mansion ride. They are large enough for 3 guests. This seashell takes guests through recreated scenes from the film using robotic characters, video and song. Under the Sea, for example, is performed completely by robotic characters that fill the space from floor to ceiling. Every little detail from the movie is recreated.
The most praised scene in the review, however, is "Kiss the Girl". It is the most advanced use of animatronics that guests have seen so far from the Disney parks. The characters have great facial expression, both subtle and large that project real human emotion. Also, the characters look like they stepped right out of the movie and are sure to dazzle riders on opening day.
To quote the review: "The animatronics are carefully placed and they even have subtle movements like blinking, eyes shifting and moving their hands slightly. This was by far my favorite part of the ride. There are glowing fireflies, kissing frogs, and the water really comes to life as Prince Eric and Ariel sit nervously in the boat. It is romantic and silly all at the same time."
The ride includes other favorite characters like Sebastian, flounder and Ursula and is set to open on December 6 2012.
About The Orlando Vacation Store
The Orlando Vacation Store is a local travel company that handpicks the best hotels according to quality, location and features, and negotiates the best wholesaler rate to offer guests the best deals on their trip. The hotel, park tickets and/or car rentals are combined into a discounted and stress free vacation package. TOVS has the advantage of knowing all the tricks to planning and saving money on every aspect of an Orlando vacation.