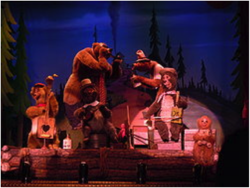 ...having such dirty and sadly treated characters doesn't match Disney's plan for a full park overhaul that includes new line cues, new rides and shiny new buildings
Orlando, FL (PRWEB) December 04, 2012
The Orlando Vacation Store, a lead seller of Orlando vacation packages, released a detailed review of the attraction, saying the integrity of the show hasn't been compromised.
Disney World has been overhauling ride cues, restaurant menus and attractions for months in preparation for the opening of the new Fantasyland. This new land will bring thousands if not millions of new visitors, and the park must be ready and shining at its very brightest. Guests have been reacting very well to these changes so far, except for when it comes to the Country Bear Jamboree. The attraction reopened recently featuring new fur and costumes for the bears, new curtains and a shorter set list.
The Jamboree is one of only a few attractions at the park that patrons find untouchable. It is the center of many family traditions, including those of The Orlando Vacation Store representative responsible for the blog.
The reviewer pacifies reader's fears, saying: "There has been quite an uproar… about the new appearance of the bears. Loyal patrons of the attraction feared the makeover would take away some of the rough charm they have. While it is true that part of their allure is the fact that they look like old… I doubt that impression was intentional and having such dirty and sadly treated characters doesn't match Disney's plan for a full park overhaul that includes new line cues, new rides and shiny new buildings".
She goes on to say that the changes are almost unnoticeable and that the overall feeling of the show has remained the same.
About The Orlando Vacation Store
The Orlando Vacation Store is a local travel company that handpicks the best hotels according to quality, location and features, and negotiates the best wholesaler rate to offer guests the best deals on their trip. The hotel, park tickets and/or car rentals are combined into a discounted and stress free vacation package. TOVS has the advantage of knowing all the tricks to planning and saving money on every aspect of an Orlando vacation.