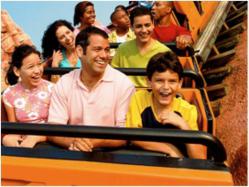 The changes that will be made are not only cool for guests, but necessary for the success of a ride
Orlando, Florida (PRWEB) November 10, 2012
This week, The Orlando Vacation Store, a lead seller of Orlando vacation packages, announced a new line cue for Thunder Mountain Railroad is coming.
Big Thunder Mountain Railroad is one of the few rides left in Disney World that doesn't have a movie attached to its concept. The ride, created to simulate a rickety train car is the old west, is a mild coaster for the whole family. The ride uses clever props, signs and scenery to catapult riders into the gold rush days. With simulated bats that chase guests through a dark cave, the ride is sophisticated and timeless. Technically, it is a rollercoaster, but It is safe for kids of all ages, and is less intense than space mountain or the Rockin' Rollercoaster.
TOVS made the following statement: "The line for this ride can get on the long side, and the days of passing time by staring at other guests and daydreaming has passed. Disney guests, especially children are finding themselves used to playing games on smart phones or listening to music constantly during downtime. This is difficult to do during a trip to the parks, and such activities are separating families from conversations and making the lines even harder to wait through. The changes that will be made are not only cool for guests, but necessary for the success of a ride."
Each season, more line cues are being updated to include interactive features. These features, like the moving gravestone or water- fountain memorial at the Haunted Mansion, make waiting in line a pleasure. Winnie the Pooh has also added interactive features to its line cue, which its tiny audience can play with and understand. The Dumbo line cue is fully interactive, with no conventional waiting happening at all. TOVS says " this kind of change is very positive for the parks, as it gives rides new life instead of removing them altogether for something new. These rides are beloved classics. If what they need is a better line cue, the rides can be left alone."
About The Orlando Vacation Store
The Orlando Vacation Store is a local travel company that handpicks the best hotels according to quality, location and features, and negotiates the best wholesaler rate to offer guests the best deals on their trip. The hotel and park tickets are combined into a discounted and stress free vacation package. TOVS has the advantage of knowing all the tricks to planning and saving money on every aspect of an Orlando vacation.