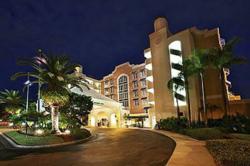 We chose the Embassy Suites because our goal is to offer high end resorts such as this one at a discounted price so all of our guests can afford the same experience
Orlando, FL (PRWEB) November 03, 2012
The Orlando Vacation Store, a lead seller of Orlando vacation packages, has recently partnered up with The Embassy Suites Orlando Lake Buena Vista to offer rooms and theme park tickets at a discount.
The Embassy Suites Orlando Lake Buena Vista is a resort focused on luxury and convenience. It is just one mile from the entrance to the Walt Disney World Resort and offers easy access to the Orlando's popular theme parks as well as the unique restaurants, abundant shops, and exciting entertainment that have made Downtown Disney and the surrounding area one of the world's most popular destinations.
By offering free shuttle service to all four Walt Disney World Theme Parks and the Downtown Disney Resort Area, the Lake Buena Vista hotel is perfect for any vacationing family. The rooms are spacious and come with upscale amenities such as: a king-size bed or two double beds with sofa bed and well-lit dining/work area, featuring private voicemail and data ports with wireless high-speed Internet access. There are two cable televisions with in-suite movies and a videogame console as well as a kitchenette and wet bar with refrigerator, microwave, and coffeemaker, iron, and hair dryer.
The hotel also offers complementary full cooked-to-order breakfast daily and complementary cocktail beverages for 2 hours nightly.
The Orlando Vacation Store is confident the hotel will be a successful addition, saying: "we chose the Embassy Suites because the focus of the resort is luxury and comfort. Our goal is to offer high end resorts such as this one at a discounted price so all of our guests can afford the same experience".
About The Orlando Vacation Store
The Orlando Vacation Store is a local travel company that handpicks the best hotels according to quality, location and features, and negotiates the best wholesaler rate to offer guests the best deals on their trip. The hotel, park tickets and even travel are combined into a discounted and stress free vacation package. TOVS has the advantage of knowing all the tricks to planning and saving money on every aspect of an Orlando vacation.