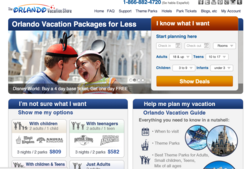 the theme park choices in the suggested packages are handpicked by real experts, not a machine.
Orlando, FL (PRWEB) May 13, 2013
This week, The Orlando Vacation Store, a lead seller of Orlando vacation packages, announced their new website features, including a complete Orlando planning guide and package tools.
The new website now features an Orlando Vacation Guide in a nutshell, giving guests a quick overview of all aspects of their upcoming vacation. It is a valuable planning tool that is part of a huge website makeover. Now, guests can view necessary Orlando information at a glance, see the best ticket deals and, as always, save hundreds of dollars on hotel and ticket combinations.
The guide also shows guests the most popular dates to visit, the least expensive vacation days, and even the weather on those days through a "high-season" calendar.
The new version also offers guests the possibility of choosing their package from a complete list of the most popular Orlando packages, according with their party composition (adults, teenagers, children, etc.) and the number of nights they have set aside for their vacation. The page will show guests with a list of suggested theme parks for their vacation.
A representative from the popular site stated: "It is important for us to let guests see exactly what it is that they are getting. Small changes, like ticket choices and hotel locations can greatly impact your vacation, while saving you even more money. As always, our travel agents will guide guests through each step, but this helps them visualize their vacation before even picking up the phone or booking online. It is an essential tool. The days of blindly picking dates and tickets are over."
Unlike booking through the Theme park itself, the theme park choices on the suggested packages are handpicked by real experts, not a machine. The Orlando vacation package page offers an unbiased look at everything from theme park rides to money saving combination tickets. It allows guests to be informed, knowing confidently that they are getting the best deal around.
About The Orlando Vacation Store
The Orlando Vacation Store is a local travel company that handpicks the best hotels according to quality, location and features, and negotiates the best wholesaler rate to offer guests the best deals on their trip. The hotel, park tickets are combined into a discounted and stress free vacation package. TOVS has the advantage of knowing all the tricks to planning and saving money on every aspect of an Orlando vacation.