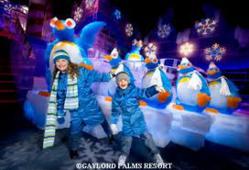 Unlike many other attractions in Orlando that feature fake ice or pretend snow, the Gaylord Palms has the real thing. The exhibit is an 18,000-square-foot Winter Wonderland
Orlando, FL (PRWEB) December 02, 2012
The Orlando Vacation Store, a lead seller of Orlando vacation packages, released a detailed list of exhibits that will be shown this year at ICE, an annual event at the Gaylord Palms Resort.
The exhibits will include scenes from Shrek and Madagascar, as well as characters from Kung Fu Panda. According to the blog by The Orlando Vacation Store, " Unlike many other attractions in Orlando that feature fake ice or pretend snow, the Gaylord Palms has the real thing. The exhibit is an 18,000-square-foot Winter Wonderland". Other exhibits include a life sized Nativity scene and long slides. 40 talented artists from Harbin, China carve the exhibits for over a month in preparation for the show. Harbin, China is known for its own incredible ice festivals.
The Winter Wonderland is kept cool at 9 degrees Fahrenheit and guests are provided with warm parkas.
The most popular part of the event, however, is the collection of long slides (also carved from ice) that chill guests all the way down. It is definitely the kids' favorite, but the event is great for guests of all ages.
A representative from the Orlando Vacation Store Says: "This is a great opportunity for visitors and Florida guests alike to really get into the Wintery spirit. It doesn't get terribly cold here, so it's fun to be able to escape the normal climate and landscape here; not just for the cool temperatures and fun themes, but for the amazing artistry that goes into each of the sculptures."
The show will be open daily this Holiday Season.
About The Orlando Vacation Store
The Orlando Vacation Store is a local travel company that handpicks the best hotels according to quality, location and features, and negotiates the best wholesaler rate to offer guests the best deals on their trip. The hotel, park tickets and car rentals are combined into a discounted and stress free vacation package. TOVS has the advantage of knowing all the tricks to planning and saving money on every aspect of an Orlando vacation.