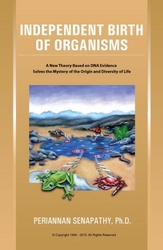 A critical mistake of the theory of evolution was the assumption that completely distinct organisms could evolve from one common ancestor
Madison, WI (PRWEB) December 15, 2010
Genome International today announced that three scientific publications appearing today at Nature Precedings have proven false the theory of evolution and offered an entirely different explanation for both the origin and diversity of life on earth.
Dr. Periannan Senapathy, president and scientific director, said "genomics has shown that evolutionary mechanisms believed to have created the diversity of life on earth are fundamentally flawed. Many scientists have now come out openly and said that the current theory of evolution cannot work. The theory offered is an entirely new worldview that fits perfectly with the genome data."
Using modern genomics, Dr. Senapathy and his team's work, showed how the abundance and diversity of life on earth originated directly in the prebiotic environment. They have presented the results in three scientific publications in Nature Precedings: publication 1, publication 2, publication 3.
Research shows that modern genome data completely uproots the evolution model. It fully supports Senapathy's theory of parallel origins of genomes that led to numerous complex life forms en masse directly from prebiotic chemistry. His theory shows how all of life's complexity originated right from the primordial pond, without any need for the origin of the primitive bacterium-like microbe that had to evolve into all life forms on earth through laborious, untenable genetic mutations.
Dr. Senapathy's theories are called the Random Sequence Origin of Split Genes (ROSG) and Parallel Genome Assembly (PGA). According to Dr. Philipp Simon, a geneticist and professor at the University of Wisconsin, Madison, "The ROSG/PGA model will result in nothing less than a paradigm shift in biology."
Dr. Senapathy explains that a key component of this shift is probability. The first genes, according to the theory of evolution, were contiguous and prokaryotic. However, an analysis of the amount of DNA needed for these sequences to occur in the prebiotic pool reveals it to be approximately 10-billion tons – which is simply impractical. The amount of DNA required when the genes are split is less than 1 milligram.
Furthermore, "a critical mistake of the theory of evolution was the assumption that completely distinct organisms could evolve from one common ancestor," Dr. Senapathy said. "This idea failed to address that no absolutely distinct gene and therefore, organism, can ever be evolved. Several analyses demonstrate that the vast number of split genes simultaneously assembled into numerous genomes, and then gave rise to distinct organisms in the prebiotic pool. Unlike the theory of evolution, ROSG/PGA is in accord with molecular, morphological and fossil data."
Dr. Senapathy has been a researcher in genomics for many years. In 1994, he presented the ideas above in his book Independent Birth of Organisms, before any genome had been sequenced.
About Periannan Senapathy
Periannan Senapathy has a PhD in molecular biology. As a postdoctoral fellow at the National Institutes of Health (NIH) in 1980, he conducted bioinformatics studies based on the idea that prebiotic genetic sequences must have had random characteristics. His research found that the prebiotic genes must have been split rather than contiguous and revealed that the theory of evolution was incorrect. He analyzed the origin of introns and the split structure of genes from random genetic sequences and compared with those of modern animals, and further realized that genomes for eukaryotic life forms could be directly assembled from prebiotic chemistry.
Dr. Senapathy has published several scientific papers in the field of molecular biology, and is the president and scientific director of Genome Life Sciences, a Genome International company, that develops next generation sequencing technologies. Genome International is headquartered in Madison, Wisconsin.
# # #