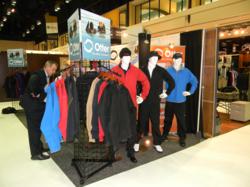 "The Otter Company has broken from the traditions that have bound weather-resistant active wear,"
Birmingham, MI (PRWEB) May 15, 2012
The all-new 2012 outerwear line from American apparel maker The Otter Company, including its all-new Francestown Vests and Half-Sleeves, and Otter-Tech Wind Shirts, are ideal for extending early season sessions, when golfers are challenged by unpredictable, changeable spring weather.
"The Otter Company has broken from the traditions that have bound weather-resistant active wear," said Martin Stebbins, the company's founder and President. "Our 2012 outerwear collection features a series of styles and a selection of eco-sensitive fabrics – including cottons, wools and eco-responsible man-made fabrics – without sacrificing performance, function, style or fit."
Designed to extend golf sessions and seasons shortened by poor weather, the new spring 2012 collection includes five groups; the Francestown series, the Otter-Tech line, the signature Rain Sweater, the Storm Fleece line, and the Play-Through Series.
ACTION-Aimed Performance Design™ is the unique characteristic of every garment from The Otter Company. It incorporates construction details allowing for the un-encumbered motion demanded by weekend and full-time athletes alike. The collection also features traditional colors with bold accents and pops of color.
The Otter Company ECO-Aimed Performance Fabrics™ include materials that are renewable, sourced from recycled materials, or manufactured according to a series of standards that consider human and environmental safety. ECO-Aimed Performance Fabrics combine technical function, a high-level of performance and sustainable practices.
Francestown Vests and Half-Sleeves
Designed for athletes who prefer layered protection, the Francestown series is available in vested and half-sleeve styles. Constructed of a peach-finished microfiber, this lined piece provides a light-weight wind/water resistant final layer.
Material: 100% polyester. Sizes: S-XXXL: Men's colors; black, cobalt, wine; US SRP $79.00.
Otter-Tech Wind Shirts
Style, weather protection and conservation are combined in the Otter-Tech Wind Shirt. Featuring environmentally sound fabrics, the garment protects from blowing winds and squally weather. The garments four-way stretch fabric provides for a light-weight and non-restrictive playing companion.
Material: 100% polyester. Sizes: S-XXXL; Men's colors: black, Mars red, skydiver blue; US SRP $129.00.
The Otter Company spring 2012 collection is available at more than 100 golf retailers throughout the United States. To find a local retailer, or to order online, visit http://www.theottercompany.com
About The Otter Company
The Otter Company, headquartered in Birmingham, Mich., designs, manufactures and markets comfortable, technical and ecologically sensitive outerwear for sports people. We maximize playtime and extend golf sessions and seasons with garments that allow play earlier in the spring, later in the fall and in any inclement weather.
Inspired by the otter, whose fur is the thickest in the animal kingdom and is constructed in layers to trap air, generate warmth, and keep the skin dry – the otter is comfortable at play in any climate. Otter garments emulate this brilliant natural design and the spirit of the otter – its playfulness, its freedom, and its willingness to continue to enjoy itself when the weather is less than ideal. Weatherproof comfort. It's the otter's way, and The Otter Company's pledge. http://www.theottercompany.com
Follow Otter on Facebook
The Otter Company Facebook page includes "Where's Otter?" posts from New York (Times Square), Florida, Norway and England, as well as Elvis Presley's home – Graceland, in Memphis, Tenn., and even the "North Pole" – visiting Santa in December 2011. To learn the latest answers to "Where's Otter?" visit The Otter Company on Facebook.
Contact Information:
The Otter Company
Martin Stebbins, President
mstebbins(at)theottercompany(dot)com