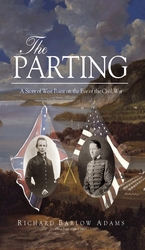 West Point, NY (Vocus) October 7, 2010
Richard Barlow Adams' new book, The Parting: A Story of West Point on the Eve of the Civil War, is a heartbreaking tale of friends, classmates and colleagues being ripped apart by a great divide—the Civil War.
The story begins in Winchester, Va., on July 18, 1861, just three days before the First Battle of Bull Run. Through flashbacks to West Point the book chronicles the growth of uncontrollable sectional tension. As our country becomes divided, members of the West Point Class of 1861 are forced to make a critical decision, one that will change their lives forever—to which do they pledge allegiance, their state or the nation?
As these young men prepare to lay down their lives for their country, camaraderie and romance still find a way into their not-yet-battle-hardened hearts. The Parting is a story of love and war, tragedy and triumph. It's packed with adventure, romance and difficult real-life choices.
In this historical fiction novel, the author reveals surprising historical facts, breathing life into the characters and events that take place during this tumultuous time in American history. Adams takes readers on a journey into the minds and hearts of the men who were forced to do the unthinkable—raise arms against their classmates and best friends in the First Battle of Bull Run.
The Parting: A Story of West Point on the Eve of the Civil War
Soft cover 6x9
Hardback 6x9
Approximately 400 pages
ISBN: 9781450231176
$9.99 e-book retail price
$22.95 soft cover retail price
$32.95 hardcover retail price
Available at http://www.iuniverse.com, http://www.richardbarlowadams.com and major websites (e.g. amazon.com, barnesandnoble.com, borders.com and booksamillion.com)
About the author, Richard Barlow Adams (http://www.richardbarlowadams.com):
Richard Barlow Adams, West Point Class of 1967, was the first of three brothers to graduate from the United States Military Academy at West Point. Shortly thereafter, he deployed to Vietnam with the 101st Airborne Division of WWII "Band of Brothers" fame. He then became an Army aviator, and after seven years in the military completed a master's degree from Boston University. He soon formed a civil/environmental consulting company, which he grew and eventually sold after sixteen years. Since then, he has consulted on an individual basis, pursued a second career in writing, and served as a ski instructor at Beaver Creek, Colo. He and his wife of 39 years reside in Denver, Colo. for part of the year and Destin, Fla. for the remainder.
iUniverse is the premier book publisher for emerging, self-published authors. For more information, please visit http://www.iuniverse.com.
iUniverse offers a variety of publishing services to help individuals publish, market and sell fiction, poetry and nonfiction books. The company utilizes print-on-demand technology, and is one of the largest self-publishing companies in the U.S. iUniverse is based in Bloomington, Indiana.
The Parting is distributed through Ingram Book Group, under the Booksellers Return Program.
###